With each new day comes new strengths, new thoughts AND New Fabric!!
Date Posted:30 August 2017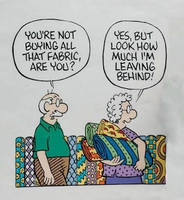 Wow! That's another day spent listing so many new fabrics that i'm sure you will all love. The Tropical Rainforest, Sew Bee It and Bicycle and Blooms ranges have me wishing for Spring and Summer to come around again.
Here is just a sample of what you will find on our website now.

Remember, here is how the conversation goes when your other half see you shopping online tonight!!
How cool are these 'Tropical Rainforest' novelty fabric by Benartex Fabrics!
You will be instantly transported to a world of bright and beautiful butterflies, friendly frogs, luscious lizards and swarms of safe snakes
Colour! Colour! Colour! Brilliant colour is the story behind Susan's latest collection 'Brush Dance' from Benartex Fabrics. Random brush strokes that create a unique texture and basket weave prints that look three dimensional. Sew very cool
Shop Hop by Bonnie Krebs for Henry Glass and Co.
Let the shop hop begin! Adorable cartoon quilter ladies in all manner of shopping, stitching and cutting up in a fun panel and tossed prints. There are added tonal elements of the quilting trade with spools of thread, tossed hearts, swatches, needles, pins, thimbles, and a few favourite ditzies with small florals. Everything quilters love
Sew Bee It from Henry Glass and Co features cute bees and beehives in yellow, blacks and grays, with pattern filled flowers
Roll into Spring with Bicycles & Blooms by Jill Finley for Henry Glass and Co. These are colourful cotton fabric with bicycles, flowers, dots, stripes and more
---
Leave a comment