TOMG Fabric Treasure Hunt
Date Posted:21 July 2017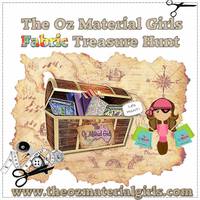 We're going on a treasure hunt! X marks the spot!
Did you join us on Wednesday for the start
The Oz Material Girls Treasure Hunt? There are lots of awesome prizes up for grabs!

For all clues and how to join in the fun be sure you are a member of our VIP group. If you are not already a member you can
join here as clues will be updated daily and you will not want to miss any!
The CLUES so far (tune in to the ongoing
Facebook post)
#1 (Only 1 answer) - What a BIG selection of fabric you have, The Oz Material Girls! All the better to quilt you with.
Hint - Children's Story
#2 (Only 1 answer) - At the surprise party don't forget to blow these up !
#3 (Choose from either clue - 2 possible answers but you only need to find the pirate girl in 1 of the 2)
- Easy Clue - Sits in the old gum tree and loves to laugh all day
- Cryptic Clue - Time And Relative Dimension in Space. You won't find a bobby inside, but at least you'll never be short of space again.

When you have found it, be sure to write down the title (or copy the link) of the item. At the end of the hunt, you will need to submit all of your answers together via this link
http://www.123contactform.com/for…/TOMG-Fabric-Treasure-Hunt
Once hunt has officially closed, all answers will be checked and the winner chosen from correct entries via random org.
You have plenty of time to submit your answers, just keep a list of them and pop them all onto the one form at the end. If you need any hints along the way be sure to ask!
Tune in 10am tomorrow in our VIP group for #4!
---
Leave a comment