✂ Sew much fun with fabric bundles ✂
Date Posted:20 June 2018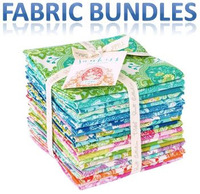 Nothing beats having a perfectly co-ordinated fabric bundle for your sewing projects.

Save the time fabric matching, and you will often get a discount by buying a beautiful fabric bundle.

The stunning new Sunkiss range by Tilda ! The full range consists of 20 wonderful designs.

Giddy Up with Howdy by Stacey lest Hsu for Moda fq fabric bundle and panels features cowgirls, cowboys, flowers and stick horses

1 unit = 31 x FQs each measures 46cm x 56cm and 2 Panels - each measures 89cm x 112cm

Inspired by the popular fairytale Goldilocks and the 3 Bears - Home Sweet Home by Stacey Iest Hsu Designs for Moda.

1 unit = 27 FQs each measures 18"x 22"and 1 panel measures 35"x 44"
Twilight FQ Bundle
Hand-dyed block prints? No! These fabrics have all the beautiful layers and nuances of hand-dyed fabric, but are actually printed fabrics.
Two of the prints are actually faux quilts - one quilt block print, and one hexagon block print. Just sew on borders using any of the coordinating stripes, dots, or circles, and quilt around the shapes for a quick and easy project.

Black White Collection quilt fabric by Kennard and Kennard features flowers in black and white.

100% woven cotton and kept continuous if more than one unit purchased. Buy as a bundle or individually.
Garden Hideaway by Jo Moulton for Wilmington Prints features beautiful butterflies, flowers, hearts and umbrellas.
Quality woven 100% cotton fabric for home decorating, quilting, clothing, and general craft and sewing.
We have a stunning quilt kit from this range. The kit includes the pattern, fabric , binding to make the quilt top.

Summertime quilt fabric by Kennard and Kennard features tropical fruit.

This bundle includes the increadibly cute "When Life Gives You Lemons" and "You, Me Strawberry"!

Why fit in when you were born to stand out!

Cat in the Hat Christmas quilt fabric by Robert Kaufman.

This is perfect for Christmas quilts, apparel, bags and accessories.
Pansy Noir -

In Stock Now and Shipping!

Another of our highly aniticpated ranges is here...Pansy Noir is a few weeks early than expected ! It is a truely an amazing range with beautiful pansies, butterflies and coordinates with gold highlights.

Stock is limited so be sure to secure yours today.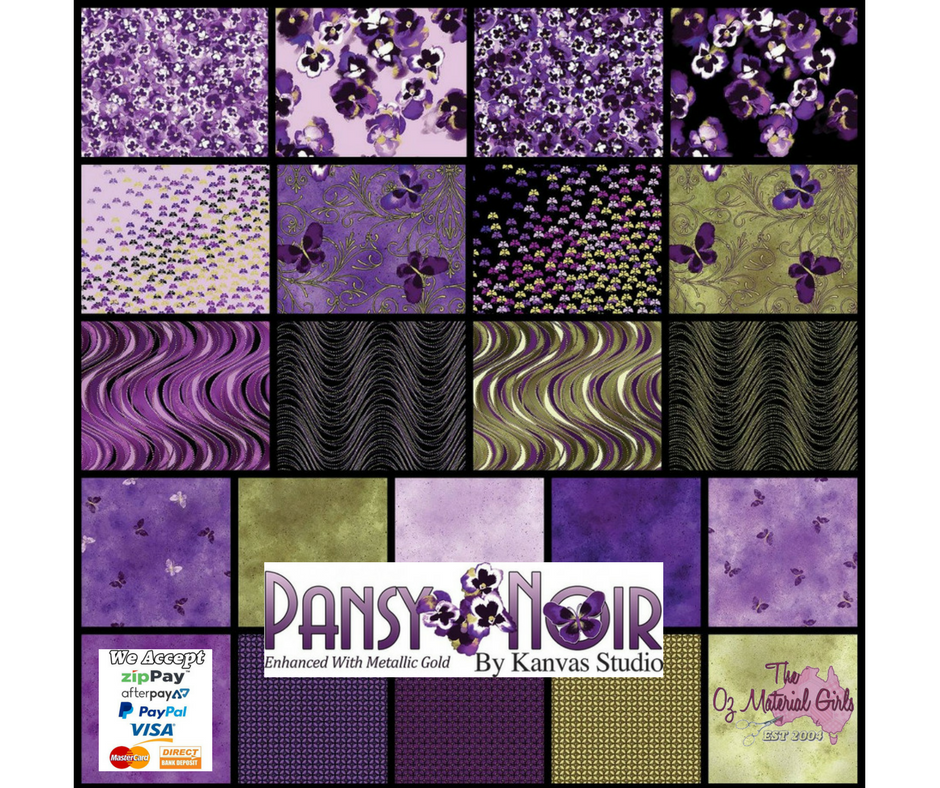 ---
Leave a comment