Roll me in Fairy Dust and call me a Unicorn!
Date Posted:14 September 2021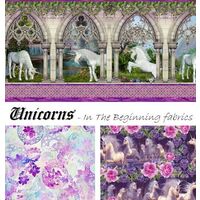 Roll me in Fairy Dust and call me a Unicorn!
Available now - Unicorns by Jason Yenter for In The Beginning fabrics.

The breathtakingly beautiful due to the detailed digital printing techniques. There is great detail with a touch of fantasy with the cosmic skies and Celtic knots.

We have the full range, bundle and a fabulous quilt kit available now.
Arriving Next Week - Lipstick Cowgirl
Take equal parts mixed media, ephemera, collage, mix in a love for cowgirls and Western history, then stir it all up with an unconventional sense of humour. The result is Shari Jenkins artwork, and the foundation of this collection. ⠀⠀⠀⠀
Get ready to release your inner buckaroo and sew (and laugh) with Lipstick Cowgirl. Yee-haw!
Meow-Za!
How cool is this new range from Chong-A-Hwang for Timeless Treasures.

Digitally printed for amazing colour and details.
Just arrived! The restocked range of the gorgeous Ombre Fairy Dust fabric range by V and Co for Moda is now here.
Ombre Fairy Dust by V and Co features 34 colours with shades of dark on the selvages running light to the middle of the fabric scattered with a dusting of silver metallic stars. Individual colours, bundles and jelly rolls are now available to pre-order.
Update from the warehouse.
We would like to take this time to thank you for your amazing support throughout a very unsure time. We are sorry we cannot fulfil orders in our normal lightning fast time frame. Current processing time frame for orders at present is approx 7-10 working days, due to the volume of orders we are receiving daily.
We appreciate your patience during this time. If your order is urgent, please email me directly at theozmaterialgirls@gmail.com with your order number and we will do our best to get it out as fast as possible.
---
Leave a comment