Some want a relaxing day of pampering...some just want a fabric shopping spree!! See our spotlight on the amazing fabrics from Timeless Treasures
Date Posted:22 February 2023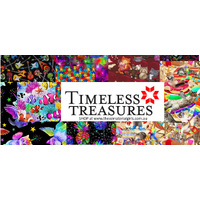 Timeless Treasures Fabrics was established in 1968 as a fashion fabric supplier in the heart of Soho, New York City. In the early 1990's, Timeless introduced its first cotton fabric collection designed for the quilting industry and was initially known for its fun and creative novelties.

Today, Timeless Treasures is a leading fabric source for many sewists worldwide.
DESIGNER SPOTLIGHT - Chong-a Hwang has a discerning eye for colour, style and all things "cool." Her artistic taste developed during her more formative years. She was often caught following her father with a paintbrush in hand trying to imitate his talents. Growing up in a family of artists her inspiration came from all corners of her household.
'Utopia' collection by Chong-A Hwang for Timeless Treasures. This stunning range of fabric is in stock now. This features a gorgeous panel, coordinating fabrics and an amazing quilt kit. So pretty in real life with the delicate metallic detail.
Rainbow Rose is another stunner from Chong-a Hwang for Timeless Treasures.

We currently have 7 coordinates in the range and two quilt kits, one beginner and one more advanced.
Glow Rainbow featuring gorgeous peacocks, feathers, flowers and another stunning panel. The must have kit is perfect for confident beginners and a great way to feature these prints.
The Timeless Treasures Novelty prints feature characters from out of space to the bottom of the ocean, cat who sew, dragons, unicorns and construction trucks!
---
Leave a comment