Date Posted:16 August 2022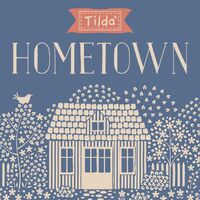 Home is where the heart is. Introducing Hometown, the latest beautiful collection from Tilda!

This cosy collection is inspired by the love of home and community. Designs of neighbourhoods, houses, gardens and people coming together in Autumn colours are perfect for your home-style quilts and projects. Picket fences, apple gardens and friendly gatherings are all a celebration of finding our own special place on earth. The gorgeous mix of patterns is brought together by a unique sprinkled look that interlaces the prints in a special way, while the rusty red and green colour stories will also work beautifully for your Christmas projects.
Pre-orders for this collection is now open, with shipping expected to commence from October 1st.
Hometown is a cosy collection where the love of home and community has been my main inspiration.
The Plum Grape colour story from Hometown mixes a range of gorgeous purples, from deep violet to soft lilac, with pops of sky blue and vivid orange, like flowers in bloom.
Bring the freshness of a garden to your projects with Hometown in the Green Sage colour story, full of beautiful shades of Moss, Pine and Fern.
The beautiful Rust colour story of Hometown blends rich Autumn reds with soft blues and delicate pinks.
Beautiful soothing blues, from deep navy to light sky are brightened up by touches of fresh aqua, coral, and autumn gold in the Hometown Blue colour story.
Welcome to Hometown's My Neighbourhood. The sweet coordinate range created especially to complement Hometown! A charming print of cottages and gardens in six colours makes the perfect blender for all your Hometown creations.
---
Leave a comment