Fabulous Feature Fabrics that bring the fun!
Date Posted:22 February 2022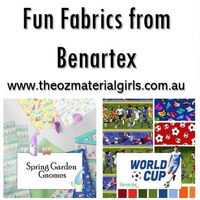 Benartex is a leading brand here in Australia and abroad.
With world renowned designers producing stunning fun and innovative collections every year. We hope you enjoy the colourful and trendy collections as much as we do.
Do you love FLAMINGOS? These upbeat and colourful fabrics featuring bold and bright sunglasses, fun flip flops and tropical flowers will transport you straight to flamingo beach! Get ready for warm weather fun by creating bucket hats, beach cover-ups, tote bags, tablecloths … the possibilities are endless!
Who can resist a little white unicorn prancing across the sky?

It's hard- especially with all the accents of pearl! Well, our little unicorns have cute friends to keep them company… a smiley purple fox, a turquoise porcupine and a deep pink owl - so fun!
Get out your hard hat, join the crew and get ready to build! The playful Construction Crew collection brings the job site to life! You'll find a cool block panel, brick prints, bulldozers, tools and sew much more - and they all glow in the dark. Make your little job foreman's dreams come true with projects from lunch boxes to laptop pillows and of course quilts!
Whether you call it Soccer or Football, these prints will have you yelling "Gooooaaaal"!
Perfect for men or women, World Cup is inspired by the passion, elation, and zeal for the world's most popular sport. You'll find a medley of action packed players, soccer balls, grass blenders and more in this lifelike collection.
Not all heroes wear capes, sometimes they wear scrubs! Our "We Appreciate You" collection salutes those everyday heroes who work so hard to make our world a better place. In this collection you'll find fun prints featuring medical motifs, positive sayings and unexpected symbols of happiness!
Chocolate lovers everywhere rejoice!

This yummy collection lets you indulge your sweet tooth completely guilt-free! So real you can almost taste it, the Chocolicious collection is a great choice for quilts, masks, blankets and even apparel!
There are lots of fun Animal themed ranges avaliable too.
Just imagine your favourite feline, with a elegant coat sprinkled with gold. No wonder she has a " cat-i-tude"- she's simply beautiful! This collection won us over immediately. Ann's cats are exquisitely painted in rich, rich colours and available in a easy-to-use panel or two graceful all-overs.
Dog On It! Aside from the cute name; the whimsical designs will make you smile, too. The collection includes a panel with some really fun dogs, and an equally fun group of coordinates so you can design and design to your heart's content. Like Cat-I-Tude, this collection is meant to appeal to dog lovers everywhere, and nothing says L-O-V-E like fabrics that feature your pets, dog on it!
It's Raining Cats and Dogs by designer Terry Runyan. Terry's modern kitties and pups are brought to life with the designer's nonchalant illustration style, enhanced with geometric patterns and playful shapes. Mix the fun focal squares and unique border stripe for the perfect pet projects!
The Horsen Around collection uses the best of Ann's original design images. The horses are brilliant turquoise/magenta and come with a variety of cut-away stripes. The coordinates are beautiful, flowing designs in shades of deep violet, turquoise and grey. And…all the designs are enhanced with metallic!
Ann Lauer's beloved artistic menagerie gets a new addition, glorious fish! In her latest line, Hooked on Fish, Ann introduces her artistic rendition of the stars of the ocean. The collection's panel features sea turtles, angelfish and more in the artist's signature artistic style and is accompanied by vivacious bubble print and paisley print coordinates
Easter themed fabrics are selling fast. See what is available from these fun ranges.
The Spring Garden Gnomes have emerged from their underground caverns to celebrate the excitement and thrill the new season brings! This collection features a sweet and mystical take on everything we love about spring from flowers and Easter eggs to magical mushroom homes all in versatile bright colours.
The Hippity Hoppity range is full of sweet prints that are an adorable must have! The fluffy bunnies and silly sheep hopping around the fabric are so lovable and cute.

They are just perfect to make baby quilts, table runners, aprons or nursery curtains. Hop on over for these fun prints.
Why do these sweet prints make everyone say "aww?" Maybe it's the adorable bunny box print, or the bunny baskets. Maybe it's the Mini Chicks print, or Spring Time Words. Maybe it's the combination of ALL the sweet prints! Remember… Some Bunny Loves You, too!
---
Leave a comment