OMG!!! Nightfall designed by Sarah Knight for Dashwood Studios has just arrived!
Date Posted:18 January 2022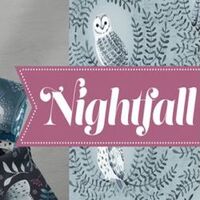 Get excited because Nightfall by Sarah Knight for Dashwood Studios has arrived.

This beautiful collection is inspired by the beauty of the night. Full of moonlight and magic, starry skies and silent owls, this lovely range will add a touch of moon dust to your next quilt, home decorating and clothing projects.
Who is a Marvel Avengers fan? We have just added two more great licensed Marvel fabrics.
Coming soon!
These new lines are due to arrive late Feburary.
Whether you call it Soccer or Football, these prints will have you yelling "Gooooaaaal"! Perfect for men or women, World Cup is inspired by the passion, elation, and zeal for the world's most popular sport.
World Cup Soccer Football Fabric Bundle

You'll find a medley of action packed players, soccer balls, grass blenders and more in this lifelike collection. Use the World Cup fabrics to create amazing projects for the Soccer/Football fan in your life.
Jan Mott presents her latest fabric collection with Henry Glass Fabrics, "Bloomin' Poppies". We invite you to take a stroll through Jan's gardens.

See the beauty of nature come to life. It is a magnificent panorama of poppies bursting in full bloom while bees are buzzing along collecting nectar. In the distance, Goldfinches nestle amongst the blooms creating a tranquil scene for all to enjoy.
Coming sooner - These ranges are due to arrive Mid-February.
Take a deep dive into summer with designer Andi Metz's Fun in the Sun collection. These upbeat and colourful fabrics featuring bold and bright sunglasses, fun flip flops and tropical flowers will transport you straight to flamingo beach! Get ready for warm weather fun by creating bucket hats, beach cover-ups, tote bags, tablecloths … the possibilities are endless!

Many people are fascinated by these beautiful and expressive animals and many have chosen them as a subject for their works. This new Heavy Horse collection by Milvale Design Studio features a beautiful range of heavy horses from shires to draughts and Clydesdale, the old crop plough and other horse tack.
Tilda pre-order reminder! Cotton Beach orders being dispatched from early February. There is still time to secure your order before it is all allocated.
Shells, coral reefs and sea anemones are some of the motifs that inspired the designs, with a summertime palette of purples, corals, sandy greys, teals and blues.
In addition to the main collection there's a new blender range, Beach Shells, and a fun new design called "Me and My Friend".
Shipping Information
We value your loyal custom during these uncertain times but we cannot guarantee orders will be sent within our normal 1-2 days processing times ( currently up to 5 working days). Deliveries within Australia are seeing delays up to 10 working days after the original estimated delivery date - read more about this here. International deliveries are seeing up to 3 weeks after the estimated delivery date so please allow 4-6 weeks for standard delivery. There are also current suspensions in place to various countries which results in packages being on hold until respective governments provide the go-ahead for postage. To ensure you are aware of the status of your country, please check the Australia Post Web Updates here prior to ordering. Please note, Non Australian customers are responsible for any import duties or local taxes that are payable to customs in their own country.
We understand you want your orders as fast as possible but due to the worldwide pandemic, this is something that is completely out of our control .They will arrive to you and we appreciate your patience during this time.
---
Leave a comment