Must have Restocked Fabrics and Special Buys ! Once Gone that is it !
Date Posted:23 October 2021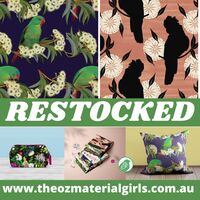 ... We have secured the last of some of our popular fabrics which won't be reprinted so stock up today before they have all gone. Plus check out our awesome special buys where we have passed on the savings to you !
Click on the pictures to see what is left


PLEASE NOTE FABRICS SHOWN MAY HAVE SOLD OUT PRIOR
As a nature lover, her attention is usually focused on creating art depicting flora and fauna, and more often than not my subject is relating to birds. Based in Adelaide, she is fortunate to be surrounded by many varieties of feather friends on a daily basis. See the collection here
Natalie Jane Parker has been a wildlife artist focusing on Australian fauna and flora since 1996. One of Australia's most successful wildlife artists, Natalie's work captured on fabric is unique and perfect for all your sewing creations. See Natalie's Collection here
Designed by Gail Cadden Design for Timeless Treasures, a great collection for the Fabric Goddess ! Perfect for quilting, apparel, and home decor accents.
The Stunning Fly By Night range designed by Chong-a-Hwang features dragonflies in flight with metallic highlights. Order here
Hannah Dale is back with her second collection for Maywood Studio just in time for Christmas! Llamas with Santa hats, bunnies in Christmas stockings, sleeping puppies wearing antler headbands, Hannah's beloved watercolor animals wish you a holiday filled with adorable, snuggly sweetness Order here
The most adorable rainbow unicorn cats is digitally printed for amazing colour and is one of our fastest sellers... Order
here
Oh La La - Pamper is a collection of pretty prints inspired by the female love of shopping and pampering. From designer shoes to luscious lipstick, the collection is perfect for quilts and lifestyle accessories. Shop this collection here
Libs Elliott brings you a blast of neon fun with her latest range for Andover Fabrics Beguiled. Add some pop to your makes with vibrant colour and modern motifs, with a bit of 80's retro in the mix!
"UNRIVALLED"
the only one of its kind; unlike anything else - one off designs - 54" Wide Linen/Cotton ideal for quilting, clothing, cushions, home decorating
Sandy Lynam Clough's newest collection is the perfect collection for spring! The theme lends itself to home décor projects as well as gorgeous quilts. The double-border print will make a quick & easy table cover or bed skirt but also lends itself to a pretty, summertime skirt! Order these designs
here
Soft books are quick and easy to make and come with instructions. They make great gifts or market stall items . See them all
here
---
Leave a comment