Celebrating Australian Fauna and Flora with these stunning new ranges. See them all in this week's newsletter
Date Posted:15 June 2021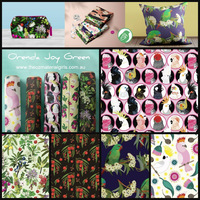 It's Nearly Here!

The new Orenda Joy Green Collection is due to arrive this week.

As a nature lover, her attention is usually focused on creating art depicting flora and fauna, and more often than not my subject is relating to birds.
Based in Adelaide, she is fortunate to be surrounded by many varieties of feather friends on a daily basis. Most days, Orenda can be found happily sketching away on her iPad. Every piece of work she creates comes from a place of joy as she finds it difficult to create art if her heart isn't in it.




You can still secure the great block panels and coordinates from the first collection.


Arriving this week!

Karin Roberts of Art Tonic also has a gorgeous new range of vibrant animal portraits for you to create with! Four stunning new block panels make the Karin Roberts Collection 3 the perfect choice for bags, quilts, cushions and more.


Karin is a graphic designer of 17 years and an accomplished graphic artist. Art Tonic is a collection of various art works from detailed hand drawn animals, to grungy abstract art, all with a common theme - Karin's love for animals, nature and humanity.

---

And there's more!

Chris Riley Art returns with a stunning new series of animal portraits in the Chris Riley Collection 2 for Devonstone Collection! Beautiful birds, ocean creatures and a favourite marsupial, all on versatile block panels.

Chris' art journey took a major detour in 2017 when he swapped the large, metallic background of cars and trucks for painting on canvas.

His first work was a surprise commission for his wife, Tracy. She wanted a piece of art for their living room but couldn't find anything she liked. Returning home from work one day, Tracy discovered a beautiful painting hanging over the couch. This was the first Chris Riley original, and now a prize possession!


---

Coming Soon!

Sillier Than Sally has done it again with this delightful collection Flowers and Feathers ! There is a stunning 90cm x 112cm block panel, amazing coordinates and a quilt kit in three different colour themes.



Sally Walsh lives in Australia but her themes cross all continents and her appeal is universal! These new fabrics feature her signature watercolour style and soft, clear colours. The rectangular panel blocks offer lots of project possibilities for quilts and beyond!


Flowers and Feathers Kit includes all fabric , binding and the pattern to make the quilt top and 3 pillow cushions . Backing is not included, if you would like us to match a backing just let us know - 3.5m required for backing. Finished size 51" x 61" (129cm x 155cm)



SHOP FLOWERS AND FEATHERS

---

Pre-order now!

Metallic Studio is fabric with panache! These 33 colourways cover all values and range from bold to neutral. The gold veining creates fabrics that looks similar to marble! These fabrics can easily stand on their own in a project while also supporting print fabrics that contain metallic accents. Not just for quilts ... this collection lends itself to home décor, bags and more. Arriving soon, pre-order now so you don't miss out.




SHOP METALLIC STUDIO


---

Arrived and Shipping!

The latest Tula Pink range Curiouser and Curiouser has arrived. Widebacks and Mad Hatter quilt kit due to arrive in July.


This collection focuses on some of the most memorable themes and characters from the story Alice in Wonderland. Our two main characters for the collection are Alice, of course, and the Red Queen. Alice sits in a sweet wreath of daisies with her cat Dinah on her shoulder. In the background are the white rabbits poised to lead Alice down the rabbit hole.
---
Leave a comment