Guess what! We have something we think you are going to love
Date Posted:13 March 2021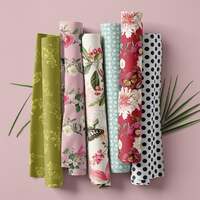 Think of Spring with Flower Festival from Devonstone Collection. Combining beautiful vintage style floral prints with ditsies and polka dots. It's the perfect blend of old world and fresh modern charm!
The Flower Festival range consists of 30 stunning prints in bold and beautiful Spring colours. This highly anticipated range is due to arrive late April but we are opening it up for pre-orders now.

Get the full collection via a 1m Bundle, 1/2m Bundle or FQ Bundle.

Adding to the beauty of these floral fabrics are some simple, yet elegant polka dot prints.
Devonstone Polked Polka Dots range feature 7mm dots. These are designed to coordinate with the Flower Festival range but are also pretty in their own right.
Choose a textured blender to match your favourite print from the Flower Festival range or shop them all.
The gorgeous Flowers for Freya by Moda pre-cuts are back in stock. But be quick, these sold super fast the first time around.
Be sure to check out our next Tuesday night newsletter if you are a Tilda fan. We have some exciting news to share with you.
Don't forget to check your inbox....it is just 3 sleeps away!
---
Leave a comment