Check out the new Australian flora and fauna collection from Adelaide based designer Orenda
Date Posted:3 February 2021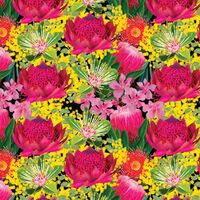 Look what is coming soon. These great Aussie flora and fauna themed panels with stunning coordinating prints. Great for quilting, accessories and apparel.
As a nature lover, her attention is usually focused on creating art depicting flora and fauna, and more often than not my subject is relating to birds. Based in Adelaide, she is fortunate to be surrounded by many varieties of feather friends on a daily basis. Most days, Orenda can be found happily sketching away on her Ipad. Every piece of work she creates comes from a place of joy as she finds it difficult to create art if her heart isn't in it.
Homebody by Maureen Cracknell for Art Gallery
Homebody celebrates the unspoken magic of being home. Find yourself surrounded by cheerful florals, cozy feathers, and soft textures that encapsulate a calm, peaceful space that nourishes and comforts you.
Have you seen these new early release pre-cuts? Fanciful Forest by Momo are in stock now.

Cotton candy trees, watercolor clouds and blossoms that look a bit like gumballs. This is MoMo's delightful vision of a fantasy forest. Soar above the treetops, or wander through an orchard, the hand-painted prints are a mix of detail and soft shapes.
New Alexander Henry fabrics are on their way. If you love AH you will love these designs.

Always something different and must haves for your next quilt, clothing, bag, cushion, wall art project !
Sea Sirens come in three great colourways. Shop in 1/2m increments due to size of the pattern repeat.
Back in the day when girls had the "gams" and guys had "guns," the great American pin-up was the ultimate ideal, the dream girl. See these and more great novelty prints from this great design house.
---
Leave a comment