Your 'Daytime Delight' has arrived!
Date Posted:30 November 2021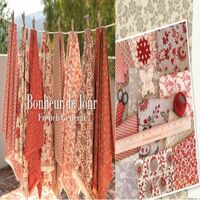 The Early Release Pre-Cuts for Bonheur de Jour
(Daytime Delight)
by French General for Moda Fabric have arrived.

Bonheur de Jour early release pre-cuts are here and we will have the full range when it is release next year. This new collection is sure to bring you happiness throughout the day, that's why we chose to call it Bonheur de Jour (Daytime Delight)!

You can also look forward to the release of the amazing Block of the Month subscription running over 6 months starting in April 2022. The colours of the quilt are from the new Bonheur de Jour Collection by French General, which includes lots of reds and neutrals – a very classic French General coloured quilt. Kaari, says, "Bonheur is a beautiful mix of small floral prints, larger florals (perfect for fussy cutting) and some of our favourite prints from our very first collection back in 2009, Rouenneries." The quilt is a fun mix of French-inspired motifs including a house, sunflower, butterfly, bird, vase of flowers, and fleur-de-lys. There will also be classic blocks, including an 8-Pointed Star and Flying Geese.
Limited Edition Fabric Bundle Offer
Sew the rainbow with this limited edition Speckled fabric bundle from Rashida Coleman Hale for Ruby Star Society!

Moda have released this amazing bundle in the Ruby Star Society Speckled Fabrics with 50 colours which are now available ! We have limited bundles so be quick !

Most of the colours have a bit of metallic, which will help your makes shine above the rest!
Speckled also comes in these gorgeous Widebacks. 108" wide and available in 6 beautiful colours.
Tula's new collection "Daydreamer", borne out of her COVID isolation is a fantastic follow-up to the recently released Curiouser & Curiouser.
"When I designed Daydreamer, I was five months into the Shelter in Place order in my state.I was stuck at home in the Midwest during the rainiest summer in recent memory.I did what I do best and imagined myself in another place, in another world, and I drew everything that I saw while I was there. I spent a lot of time there, it was lovely. Daydreamer is an escape to a surreal place of make believe and wonder.
Celebrate Summer with Confection Batiks from Moda
Confection Batiks is a unique collection of Batik fabrics by Kate Spain that displays a kaleidoscope of flowers, diamonds, circles, and leaves with breathtaking blends of scarlet red, jade green, navy blue, snow white, lime green, and black. See the vibrancy for yourself!
More Stunning Colour with Poured Colour by Paula Nadelstern.
Paula's artistic and opulent Poured Colour collection is a colourful fantasia of well-known artistic techniques, featuring strokes and styles beloved by masters of art. Bright hues and rich textures make this collection uniquely modern.
Only 25 SLEEPS until Christmas!
We have your Christmas sewing sorted with so many great panels ( only a few shown of what we have ) ideal for quilts, wall hanging, Tree skirts and more.
Gift Vouchers - Need a gift for your crafty friend or family member ! TOMG gift vouchers are what they really want!

Our vouchers are a must for any fabric lover and emailed to the receiver on a date our your choosing ! Order here
$9.95 per metre Black Friday SALE still on!
Don't forget to check out the huge range of designer fabrics reduced to just $9.95 per metre!
Need Backings - Our gorgeous selection of widebacks will complete your quilting project and are also perfect for clothing and home decorating . See them all here
New Fabric Remnants Added- Our remnants are always popular and sell fast. Most listed are the last we have - please note pictures shown may have sold out prior - see them all here
Looking for something different? Why not Shop by Category instead!
---
Leave a comment