You never know what you have until you fold your stash! Looking for a Christmas booster?
Date Posted:26 October 2021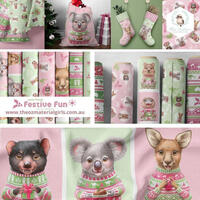 With only 8 weekends to go...is your Christmas sewing in full swing?
Aussie Friends Festive range features the cutest featuring Aussie animals including Koalas, Kangaroos, Tassie Devils, Platypus and Quokkas !
Warm Wishes fabric by Maywood Studios is now in stock.

Llamas with Santa hats, bunnies in Christmas stockings, sleeping puppies wearing antler headbands, the designers beloved watercolour animals wish you a holiday filled with adorable, snuggly sweetness.
Unalloyed Aussie Christmas fabrics by Amanda Joy Designs are the classic Australian animal fabrics we have been looking for. Koalas, Magpies, Kangaroos and Santa hats!



Stocks are getting low for Christmastime Fabric panels... digitally printed for amazing detail .


Ideal for quilts and wall hangings

How awesome is this Caravan and Camping fabric Christmas Adventures ! Perfect for quilts, caravan decorating, cushions, bags etc.

Time to have a Christmas Adventure!
There's an Aussie Christmas party being planned in the bush and the locals have dusted off their historic Holden Utes to assist with setting up. Kev, the Kangaroo conductor, has gathered his furry friends and a couple of youth for carol singing practice. Christmas trees, baubles and gifts are all on route to the hall. Should be a cracker of a party!

Alexander Henry Designs have a huge following with an ever-growing collection embraces a wide range of themes inspired by art history, runway fashion and the culture at large.

Have some fun with Santa Goes Glaming.

Scandi 2021 Christmas by Makower is another classic range perfect for all Christmas sewing.

Complete with border prints, block panels and a fabulous bag kits. Individual prints also available.



Bring back special memories with these traditional Merry and Bright prints.

They've got Santa's stamp of approval, so this collection is ready for sewing!




Santa Express novelty collection is full of festive fun. Traditional characters and cheery coordinates are accompanied by an advent panel and quilt and quillow kit.
Hacienda by Alexander Henry featuring El Chicote, Carmen, Jose Enrique, Inez, Encanta and Tito with coordinating cactus plants. Gorgeous quality fabric for quilting, clothing, bags, cushions, home decorating !
Colourful faces in cool shades fill this hip, 60's Pop-Art inspired print. In Crowd faces are from Alexander Henry Designs.
You don't need to go to Paris for these fashion themed prints! Did you know that a place or workshop of a haute-couture is also called an atelier?
Don't forget, October is Breast Cancer Awareness Month.
Fabric Designer Katherine says: "Hope in Bloom gathers up all the wishes I would share with those who have faced breast cancer and ties a pink ribbon around a bouquet of hope, strength, faith, courage, and support. Their perseverance is an inspiration to me. Through flowers and butterflies I hope these images and words of encouragement bring comfort and some joy as we fight to find a cure."
Looking for something different? Why not Shop by Category instead!
Copyright © 2021 The Oz Material Girls, All rights reserved
---
Leave a comment