We are having a Fab Feb Fabric Frenzy at TOMG this week! See inside for amazing specials
Date Posted:24 February 2021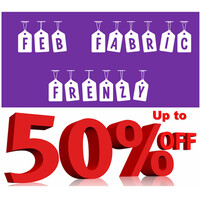 Our Feb Fabric Fenzy SALE is on now!
Check out our large range of specials and clearance stock.
Once they sell out they won't be restocked!

Get 10-50% off over 2000 fabric lines. These SALE items range from new Special Buys to End of Range clearance lines. Now is a great time to restock your fabric stash.
Explore the individual SALE categories or browse them all.
Fulfil your floral addiction with The Flower Society, where florals are more than just a print but a lifestyle!

Containing tons of variety and saturated prints ranging in dark, moody, simple, modern, ditsy, and retro. There's a style for everyone in this 100% floral collection.
Due to arrive next week but stocks are limited. Purchase one of the full range bundles, the amazing quilt kit or as individual prints.
New Special Buys - In Stock Now!
We have secured some awesome special buys and passing on the savings to you ! Secure before they sell out as stock is limited to what is listed.

Keep an eye on the website for more great specials to come.
After a huge week with hundreds of orders leaving the TOMG warehouse, we have lots of remnants left over !

These fly off our shelves so be quick as most are the last we have ! Picture shows only a few of what have been added and some may have sold out prior to this newsletter being released.
Grab the
end of the bolt
before they sell out!
Fabrics listed will be the end of the bolt above 1m. Most will be the last we have and won't be replaced. Check out our fabric remnants for end of lines and off cuts under 1m.
---
Leave a comment