Tula Pink, Riley Blake, Tilda, Moda, Benartex - Fabrics Restocked plus ranges reduced to clear !
Date Posted:13 November 2021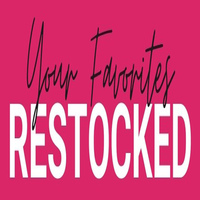 We have restocked lots of our popular ranges and slashed the prices on many also to make way for lots of new arrivals !
Please note fabrics shown may have sold out prior
Tula Pink Lineworks - The Linework fabric collection is Tula's thought process on cloth. Black and White. My main black and white prints focus on animals that live in this range; Zebras, Pandas, Lemurs, Albino Peacocks, and of course a skunk. See Tula chat about Linework here
Tula's new collection "Daydreamer", borne out of her COVID isolation is a fantastic follow-up to the recently released Curiouser & Curiouser. - Arriving soon, order today to secure.
Abbie's Garden - in stock now and features the sweetest panels, bundle, and individual prints. See the range here
Rainbowfruit - by Amber Kemp-Gerstel of Damask Love for Riley Blake Designs is great for quilting, apparel and home decor.The Rainbowfruit colection features quirky, whimsical and delicious illustrations complimented by bold and graphic patterns that will bring any project to life.
Tilda Gardenlife Collection - Bring the garden inside with large floral prints of nasturtiums, peonies, petunias, and poppies on backgrounds of blue, coral, green, lavender, lilac, mustard, and pink with the occasional bird flying by
Farm Charm - Inspired by life on the farm , this beautifully illustrated collection in red, green, blue and neutral is versatile and fun to sew with all you favourite farm animals
Homebody by Art Gallery - Homebody celebrates the unspoken magic of being home. Find yourself surrounded by cheerful florals, cozy feathers, and soft textures that encapsulate a calm, peaceful space that nourishes and comforts you.
Tropical Breeze- We're having a heat wave, a tropical heat wave! You just might find yourself singing that song when you look at our Tropical Breeze collection! We've collected pineapples, butterflies, flamingos, turtles, even summer flip flops to create this bright, fun collection of summer prints
Want more? Here are more popular designs that have been restocked.



Nature Deer Woodlands Forest with deer, fox and rabbits perfect for quilts, clothing, home decorating, bags, sewing and craft...almost gone !



From Porter with Love - Border prints featuring adorable cats make gorgeous dresses and quilts. 2 colourways available but stock is close to selling out so be quick !



Farmdale Crossing - From the Alexander Vault, this classic country rooster print is now out of print - Turn into bag to collcet your eggs, apron , or part of any country quilt !



Cat-i-tude Christmas - Meowy Christmas! By special request, the most popular cats on the planet are celebrating Christmas. They're everywhere… opening presents, under the tree, taking a stretch
Looking for something different? Why not Shop by Category instead!
---
Leave a comment