TOMG has turned 17! Lots of fun, prizes and new fabric ranges to help us celebrate this.
Date Posted:5 October 2021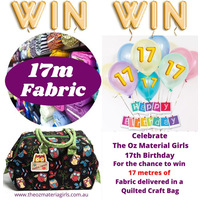 We are celebrating our 17th Birthday this week at The Oz Material Girls
What an amazing 17 years it as been! We are so lucky to have so many fabulous customers, many who have been with us since the start, and to be able to do what we love everyday. Thank you everyone who has joined our journey so far and we look forward to many more years bringing you all the latest must have fabrics and supplies.

As a thank you, we have some awesome Birthday Celebration Giveaways on our Instagram and Facebook pages.
Road Trains
The monster of the transport world "Road Trains" are hard to miss and make for a great image on a bed as a quilt panel or hanging in a room.
Sunflower Sunrise
Our bright and lively Sunflower Sunrise fabrics feature vibrant sunflowers, butterflies and posies that will instantly lift your mood. It is perfect for quilts, bed covers, apparel and more.
Celebrations
Everyone is out for a celebration every now and then. From scrolls to dots, stars to shapes, this collection is suited for every celebrator.
Hummingbird Song
The Hummingbirds fly off the fabric in this electrifying jewel toned collection by designer Danny O' Driscoll. The lifelike prints of the collection depict the tropical bird in all of its glory.
African Safari
This collection is featuring the rich landscapes and unique animals of one of the most awe-inspiring continents in the world.
Lavender Fields
This charming collection features dainty floral, geometric and paisley motifs, in varying shades of purple. Use these fabrics to create quilts, curtains, table runners and sew much more!
Paula Nadelstern's quilts and fabrics have achieved international recognition for the innovative and complex designs inspired by the bilateral symmetry of kaleidoscopic images. Her artistic and opulent
Poured Colour
collection is a colourful fantasia of well-known artistic techniques, featuring strokes and styles beloved by masters of art. Bright hues and rich textures make this collection uniquely modern.
Have you ever been tempted by laminated fabric? Not sure what you could do with it, or if it would be hard to sew?
Laminated cotton
is a laminated fabric and by definition this means that a plastic layer has been fused to a layer of fabric. As a result, the material is water resistant, and the material can no longer fray.

Are you inspired?
Laminated cottons
are great for making tablecloths, aprons, bags and totes and more!
These super bright, soft quilting weight cotton fabrics are now in stock. We have secured them at a special price and are passing on the savings to you.
Phosphor
, by Libs Elliott for Andover Fabrics have a fun denim look texture in colours designed to make an impact.
Did you know that October is Breast Cancer Awareness month?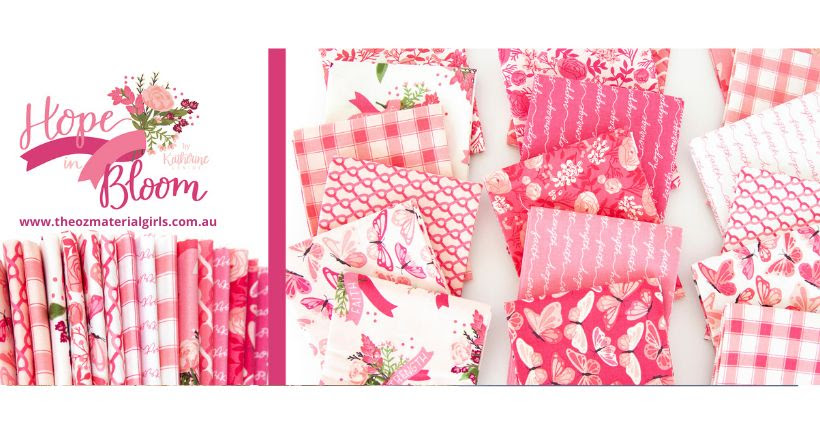 To honour this, Riley Blake Designs (following the launch of
Hope in Bloom
range) is honoured to partner with the Breast Cancer Research Foundation by donating $10,000 regardless of sales to advance breast cancer research.

Fabric Designer Katherine says: "
Hope in Bloom
gathers up all the wishes I would share with those who have faced breast cancer and ties a pink ribbon around a bouquet of hope, strength, faith, courage, and support. Their perseverance is an inspiration to me. Through flowers and butterflies I hope these images and words of encouragement bring comfort and some joy as we fight to find a cure."
What beautiful words and a worthy cause! The Hope in Bloom collection us unabashedly pink, pink, and more pink! You'll find inspiring pink text, ribbons, florals, butterflies and even plaids
Update from the warehouse.
We would like to take this time to thank you for your amazing support throughout a very unsure time. We are sorry we cannot fulfil orders in our normal lightning fast time frame. Current processing time frame for orders at present is approx 7-10 working days, due to the volume of orders we are receiving daily.
We appreciate your patience during this time. If your order is urgent, please email me directly at theozmaterialgirls@gmail.com with your order number and we will do our best to get it out as fast as possible.
Note: Shipping partners Australia Post and Aramex Couriers are also experiencing delays due to Covid lockdowns and increased demand.
Our Journey so far!
The Oz Material Girls® Australia is the original Australian owned and run online family business which was established in October, 2004 by mother and daughter team, Louise and Judith. Louise's husband joined the team in 2012 when Judith retired .

We pride ourselves on our friendly customer service, super fast postage, and quality products at affordable prices. Quality quilting fabrics, knit fabrics, and accessories are sourced from around the world, and we only sell products we would use ourselves, so you can be guaranteed you will receive the best quality possible.
We offer a wide variety of payment options including AfterPay, ZipPay, Paypal, Mastercard, Visa, Amex and Bank Deposit (for Australian Customers) and offer capped postage Australia Wide from $6.50 - $15.00 (maximum per order). We also use a variety of shipping carriers to ensure your order arrives fully tracked and insured against loss or damage.
We love connecting with our customers so be sure to sign up to our newsletter to keep up to date with the latest fabrics, trends and awesome sales we offer.
---
Leave a comment