To sew or not to sew...what a silly question! We have lots of great new fabrics to help inspire your sewing projects.
Date Posted:24 March 2021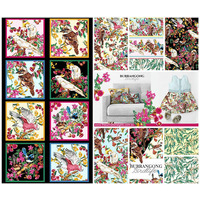 It's raining cats and dogs up here at the warehouse! Don't worry, all of the precious fabric bolts are sitting high on their shelves keeping dry and safe!

What a week! We have had some great ranges delivered and have even more still on their way. Here are some of the exiting new arrivals and ranges that are coming soon.
Burrangong Birdlife - Designed and illustrated here in Australia, these designs are inspired by the Australian bush and our fantastic cultural heritage. Featuring our iconic Kookaburra, Cockatoo, Galah and more, all surrounded by beautiful native florals.
How pretty is Flower Jewels! This new range from P&B Textiles is in stock now and at a great price !
Enjoy the rich colour and patterns in this range through Cyndi Hershey's lap quilt kit. It that shows off the Flower Jewels panel perfectly. The quilt is 38" x 63".
Cultivate Kindness by Moda features Vintage Trucks perfect for all your quilting and sewing projects. Grab this today with our introductory special price.
It's a Jungle Out There
digitally printed fabric by Skykel. Packed with animals, colour and patters, it is great for all sewing projects.
We have secured these gorgeous Arabesque Watercolour widebacks.
At 108"wide these are perfect for so many sewing projects ans quilt backs. Stock is limited at this price.
Brumbies Runaway
will be arriving in a few weeks. Featuring a fabulous panel. border stripe and coordinating prints perfect for quilting, clothing, bags, home decorating
This Cute Kitten range is just another of the adorable ranges coming soon. The block panel measure 60cm x 112cm and great for cushions and quilts. This range is also due early April.
Not to be outdone by the Cute Kittens range, the most adorable dogs feature in
Kitchen Dogs.
Be sure to check out the panel and coordinating prints. These are sure to sell out fast.
These sweet Aussie Bush Gum Fairies range is going to be hard to resist!
With skirts of blossom and gumnut hats, decorated with a native floral wreath, we bring you the 'Bush Gum Fairies'. So sweet they'd capture the hearts of any girl.
How bright and funky are these latest widebacks arriving soon ! 108" wide (2.7m) these are a perfect match to modern quilts and also great for clothing, bags, home decorating
---
Leave a comment