This week we just want to Snuggle Up With Coffee!
Date Posted:28 September 2021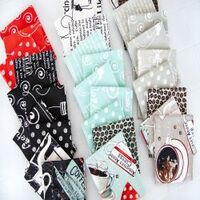 Coffee....you haven't had enough until you can thread your sewing machine while it's running!
Coffee Chalk - designed by J. Wecker Frisch of Great Joy Studio for Riley Blake Designs is available now.

With all these fund fabrics, it kind of makes you want a cup of coffee!
Feeling the need for a cup of coffee, a good book, and a quiet corner?
How about this cute quilt. "Snuggle Up With Coffee" features the new Coffee Chalk fabric and designed by Carol Swift and is approx 54" x 66"

Kit includes all fabric , binding and the pattern to make the quilt top . Backing is not included but can be arranged upon request.
Get creative with this super size coffee shop menu panel.

Panel measure 132cm x 183cm ( 52" x 72")
Dream designed by Kristy Lea is her second fabric line and follows on from the fun of her first 'Create'.

Dream is mixing a range of tone on tone prints, and some rainbow-on white. It's full of soft dreamy shapes – hearts, clouds, raindrops and rainbows.
Sew Wonderful by Paper + Cloth for Moda Fabrics




With an assortment of quilting tools, scissors, blooms, buttons and safety pins, there's a myriad of designs to choose from! Find some inspiration for your next project here!
Through The Woods by Sweetfire Road for Moda Fabrics
You can almost hear the crunching leaves below and the owls hooting in the distance with this collection full of forest images: Ferns, trees, flowers and moths in yellow, black, grey and white prints. Finally, all the lunar cycles of the moon to help you avoid getting lost in the woods!
Celebrate the beauty of the natural world with Wild, the lovely new collection by Bethan Janine for Dashwood Studio
Add some Scandinavian fairy tale magic to your makes with Nordiska, also from Dashwood Studio and in stock now !
With it's sweet folk art style and fresh colour palette, Nordiska will bring a charming blend of vintage and modern to your makes
Update from the warehouse.
We would like to take this time to thank you for your amazing support throughout a very unsure time. We are sorry we cannot fulfil orders in our normal lightning fast time frame. Current processing time frame for orders at present is approx 7-10 working days, due to the volume of orders we are receiving daily.
We appreciate your patience during this time. If your order is urgent, please email me directly at theozmaterialgirls@gmail.com with your order number and we will do our best to get it out as fast as possible.
---
Leave a comment