The new Story Time collection will bring you back to your childhood with these fun retro prints include gorgeous daisies, checks, and colourful dots.
Date Posted:23 November 2021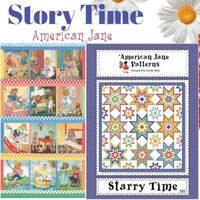 With this new collection, you will be able to tell some great stories.

The panel brings us back to our childhood and the retro vintage coordinating prints include gorgeous daisies, checks, and colourful dots.
Story Time has quilt kits and patterns, we bundles, pre-cuts, and individual prints now available.
$159.95
$189.95
Block of the Month Patterns x 9 (no fabric)
$84.95
$39.95
$308.95
$82.95
$82.95
$23.95

Paisley Rose by Crystal Manning for Moda Fabrics.

Blooming roses add a dash of romance, and ornate paisleys create a bohemian vibe. The luscious colors and vibrant patterns of paisley rose will add boho style to your wardrobe and home decor.
Cottage Linen Closet by Brenda Riddle for Moda.

These quaint designs take you back to life at the cottage where you will embrace & surround yourself with the colours and a comfy feeling. These are designed as a starting point for creating cosy heirlooms for your family & loved ones.
Through The Woods by Sweetfire Road for Moda Fabrics
You can almost hear the crunching leaves below and the owls hooting in the distance with this collection full of forest images: Ferns, trees, flowers and moths in yellow, black, grey and white prints. Finally, all the lunar cycles of the moon to help you avoid getting lost in the woods!
Grace by Brenda Riddle for Moda Fabrics

True to its name, Grace by Brenda Riddle reunites you with floral motifs and charming reds, blues, yellows, and greens. A collection frozen in bloom for you to enjoy.

Sew Wonderful by Paper + Cloth for Moda Fabrics

With an assortment of quilting tools, scissors, blooms, buttons and safety pins, there's a myriad of designs to choose from! Find some inspiration for your next project here!
We know how much you love our fabric remnants and after another busy week we have added lots of new designs! These fly off our shelves so be quick as most are the last we have ! Picture shows only a few of what is currently available.
Looking for something different? Why not Shop by Category instead!
---
Leave a comment