The much anticipated Honour The Light Brigade has arrived !
Date Posted:19 October 2021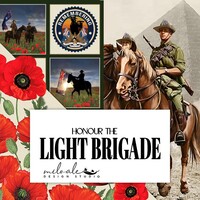 The much anticipated Honour The Light Brigade is now available.

Honour The Light Brigade! Honour the charge they made with this meaningful Remembrance collection by Milvale Design Studio. This collection has been designed as a tribute to those mounted soldiers who served and sacrificed in the battles of our Light Brigade.
This range is featured in these found amazing quilt kits. Kits can save you time and money as you receive only the fabric needed for quilt top.

Kits include all fabric, binding and pattern to make the quilt top.
Backing is not included. If you would like us to match a backing for you, just let us know.
Finished size 58.5" x 67.5" (148.5cm x 171.5cm)

Finished size 70" x 77.5" (177cm x 196.5cm)

Finished size 62" x 71" (157.5cm x 180cm)
Finished size 62" x 66" (157.5cm x 168cm)
The Animals of War collection is a tribute to those animals of war who marched alongside our ANZACs, from the working animals to those that played roles as friends, companions and mascots. Explore stories of our unsung heroes of war, Light Horse, Donkeys, Camels and other heroic creatures right within this beautiful collection. Create something significant and heart-felt with this loving collection and give our unsung animal heroes the honour they deserve.
Waltzing Matilda is Australia's most well known bush ballad and we call it our unofficial nation anthem.
Perfect for your next true blue, Aussie project.
Sunflower Sunrise fabrics feature vibrant sunflowers, butterflies and posies that will instantly lift your mood.

This fanciful collection features fresh floral and geometric blenders and borders that are perfect for mixing and matching. Sunflower Sunrise will make beautiful quilts, bed covers and ruffles, curtains and apparel.
Hummingbirds fly off the fabric in this electrifying jewel toned collection aptly called Hummingbird Song. The lifelike prints of the collection depict the tropical bird in all of its glory. The collection's colour crush fabrics mimic the iridescence of the Hummingbird's feathers.
The sweeping lavender fields of Provence were the inspiration for Jan Shore's latest collection, Lavender Fields.

This charming collection features dainty floral, geometric and paisley motifs, in varying shades of purple. Use these fabrics to create quilts, curtains, table runners and sew much more!
The monster of the transport world, trucks make a common appearance here in Australia and are much loved by all vehicle aficionados. Also known as the road train, a prime mover that carries multiple trailers, these vehicles are hard to miss and make for a great image on a bed as a quilt panel or hanging in a room.
Africa abounds with incredible sights, from soaring sand dunes to savannas teeming with wildlife. Spot lions, elephants, giraffes, and much more on your own sewn safari. A collection featuring the rich landscapes and unique animals of one of the most awe-inspiring continents in the world. All sewn into your next project.
Celebrations - Everyone is out for a celebration every now and then. From scrolls to dots, stars to shapes, this collection is suited for every celebrator.
Looking for something different? Why not Shop by Category instead!
---
Leave a comment