The Cottage Collection is here....move over Harvest! We have a special offer inside!
Date Posted:1 September 2017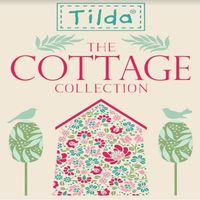 Move over Harvest...The Cottage Collection is here!
The Cottage Collection from TILDA is now available for Pre-order!
Get an awesome 10% off at checkout when you use the discount code "COTTAGE".
Plus place an order including any items from the cottage range for a chance to win the cost of your order back ! And the best part you don't have to do anything to be entered - all orders with The Cottage fabric will be automatically entered
There is nothing like spending winter in a cottage warm and cosy in front of the fireplace while hearing the wind howling outside. A cottage should always have a stack of old quilts ready for cold nights, carrying with them memories of generations past.
The Cottage collection is inspired by the kind of fabrics you might find in these old quilts.
Classic large flower fabrics combined with small flower patterns that could be from an old shirt. With emphasis on red and green tones, The Cottage collection is also perfect for Christmas.
Want more Tilda fabrics?
You can still purchase fabrics from The Harvest Collection released last month. Hurry, stock is selling fast.
---
Leave a comment