Something new from Tula Pink. Her very first deja vu collection - Parisville Deja Vu
Date Posted:23 August 2022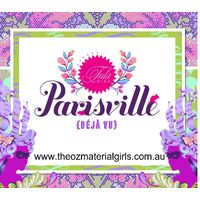 Just Arrived!
Parisville Deja Vu - a new spin on an old theme. The original design of Parisville was based on the story of Marie Antoinette, in all of its unnecessary decadence, as seen through the lens of what a young girl might think is "fancy". Tula thought it was only natural to pull the new colour palette from a buffet of ice cream colours and dessert treats for these new prints. This collection is like frosting, it's sweet, decadent and entirely indulgent.
Video from the designer Tula Pink
Playing with a smaller scale the Tiny Beast collection focuses on backyard animals and what they might be up to when we are not looking
Tiny Beasts backing fabric by Tula Pink - 108" Wide Back
There are also two great wide back designs that compliment this range. These are 108" (274cm wide).
Linework range from Tula Pink is another fun range from this great designer.
These stunning True Colours Hexy range by Tula Pink are selling fast !
Browse some of our popular categories!
---
Leave a comment