Secure this gorgeous range for any Ballet fans !
Date Posted:6 September 2022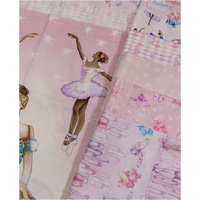 Arriving Soon!
Secure this gorgeous range for any Ballet fans ! Including 2 stunning quilt kits, bundle and individual prints, this is such a pretty range for any Ballerina.
This range is due to be avaliable from 23rd September.

There are so many female ballerinas that dream of becoming a Prima Ballerina.

Prima Ballerina is the title awarded to the most notable of female ballet dancers. To be recognized as a prima ballerina is a rare honour, traditionally reserved only for the most exceptional dancers of their generation.
Ballet is synonymous with grace and beauty. This range of fabrics attempts to capture some of that grace. This collection is created in a palette of soft pinks, fuchsia and violet.
Finished Quilt Size: 80" x 96"

Skill Level - Advanced Beginner
Panel measures 60cm x 112cm

100% quilting cotton.
Check out these additional Ballet themed ranges!
Twirl and plié into the enchanted world of the prima ballerina. From silk ballet slippers to silhouettes of graceful dancers in motion, Pearl Ballet is a must-have collection for ballet lovers everywhere. This collection also features feminine floral motifs, whimsical scroll patterns and ballet phrases that will delight any dance enthusiast. These fanciful fabrics are perfect for creating sew many projects from quilts to apparel.
We're dancing with this beautiful collection designed by The RBD Designers, Spin & Twirl will pirouette right into your heart! Honestly, is there a better combination than a rich navy, a delicate blush, and a touch of sparkle!
Bush Birds are back in time for your Christmas sewing!
Aussie Christmas Bush Birds - Cockatoos, Rosellas, Kookaburras, Magpies, Wren, Waratahs, Wattle and Christmas decorations. Secure now for your Christmas projects as this will sell fast !
We have added a lot of new lines to our $14.95 per metre sales category. See these and more on our website.



Note, lines sell quickly and those pictured may have sold out before this email was read.
We have reduced our Scrap packs which include 500grams of fabric remnants and off cuts, all very useable pieces and many full widths. A variety of designs including kids novelty, flowers, blenders, and more...great stash builders and all quality fabrics perfect for all fabric crafts.
We have reduced more fabric remnants so we can make way for more ! Here are just a few listings ! As always be quick as most are the last we have !

*Please note remnants shown in picture may have sold out prior
Browse some of our popular categories!
---
Leave a comment