Saturday Super Specials ! Fabric Remnants, End of Bolts and Clearance Lines !
Date Posted:12 March 2022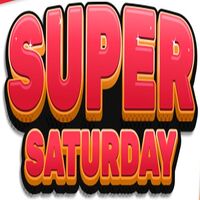 Super Saturday Savings newsletter... today we showcase our latest fabric remnants, End of Bolt and Clearance Fabrics - most are the last we have so grab them before they sell out !Be sure to scroll through to see them all !
If you love surprises you will love our Mystery Bundles.Our team will select 10 designs for you from our huge selection of quality fabric and you can choose the theme ( please note at checkout or mixed will be provided) Great value and ideal for your stash! Available in FQs, Skinny FQs, 1/2m and 1 Metre Bundles. Shop them here
Lots of our fabric ranges are coming to an end and have been reduced to clear. A great selection to add to your stash - but be quick as there is not much left !
Our End Of Bolt Fabrics sell fast and are the last we have... here are just a few ... Shop them all here
Our Last Chance Fat Quarter Bundles are a great addition to your stash and a great chance to grab the last of these fabrics... here are just a few. Shop them all here
---
Leave a comment