One of the most popular ranges from 2007 is back! This amazing range is being reprinted and arriving next week!!
Date Posted:8 February 2022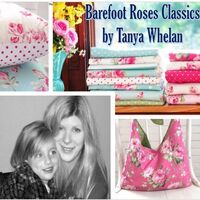 2007 was known for ....
... The first iPhone
... PlayStation 3 console
... Happy Feet the movie
... Efficient wining the Melbourne Cup....
...and the release of Barefoot Roses range by Tanya Whelan.



We are so excited to be bringing you the reboot of this with Barefoot Roses Classics by Tanya Whelan. We sold this stunning range back in 2007 and it was one of our most popular fabrics. The full range has been reprinted and will be arriving next week.
Secure these must have designs today.
They are perfect for Quilting, Clothing, Home Decorating, Bags, Aprons... you name it !
Wait, there's more arriving next week!

Vintage Birdwatcher - Designed by Aimee Stewart for Robert Kaufman, this digitally printed cotton fabric is from the Vintage Birdwatcher collection. This fabric is easy to sew and is very versatile! It is ideal for quilting, but can also be used for crafts, miscellaneous sewing projects, or home decor items like pillow covers and bed skirts.
Philately - the study of postage stamps, stamped envelopes, postmarks, postcards, and other materials relating to postal delivery. These two new designs have been added to the Library of Rarities collection.
These pair perfectly with the rest of the Library of Rarities collection.
Embark on the cutest interstellar adventure with Outta This World, the new collection by designer Kristy Kate for Devonstone Collection.
Kristy's art is inspired by the joy and wonder of childhood, and these adorable prints are sure to delight little space explorers!
Elise's mission is to bring happiness into your life and your home through her colourful artwork. Her new range for Devonstone Collection, Happy Farm will do just that! Take a trip to the country that will leave you smiling, with all your farmyard favourites in Elise's joyful style and bright colour palette.
How adorable is Spring Garden Gnomes... they have emerged from their underground caverns to celebrate the excitement and thrill the new season brings! These aren't your ordinary fabled gnomes, they are exceptionally modern and lovable!
How gorgeous are these Cut and Sew Plushie Pillow Softies Panels!
Five cute animals feature on easy to sew cushion panels that will let you create a menagerie of cuddly friends in no time. Great for when you feel like a quick and easy project, or a first creation for little makers!
Karin Roberts of Art Tonic has created a brand new range of vibrant animal portraits for Devonstone Collection, Native Grace! Choose from six gorgeous new block panels all full of wonderful colour and Karin's trademark whimsy. Add stunning colour and the beauty of nature to your home decor and quilts
Shipping Update
You don't need to wait any longer for these great ranges. Fabric is in stock and shipping.
How cool is this Retro Campers fabric ! We love how 'Retro Campers' proudly features our iconic Australian beaches and their natural beauty.
We have secured these fabrics at a great price and passing on the savings to you while stocks last.
Shelly has put together a fun line of bees, beehives, daisies, textures and honeycombs. The sayings all inspire positivity! Her colour palette of black, yellow, sweet lime green and white all together make a happy collection for any kitchen, sun room or bedroom décor.
This is the gorgeous BEE YOU range.
---
Leave a comment