Nothing hurts us like the fabric we didn't buy!
Date Posted:10 August 2021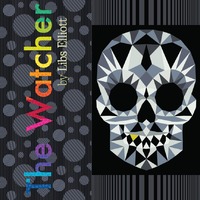 How exciting is this! The Watcher by Libs Elloitt for Andover Fabrics has just arrived.
The Watcher by Libs Elliott features her iconic Watcher skull pattern as a full-sized panel available in two colorways and 12 coordinating tossed rainbow skulls
ABOUT LIBS

Elizabeth (Libs) Elliott is a textile artist and designer exploring the intersection of technology and traditional craft by using generative design to build handmade quilts. She studied Material Art & Design at OCAD University and received a B.A. in Cultural Studies at Trent University.
She has exhibited her work and done speaking engagements internationally. She designs fabric collections for Andover Fabrics, Inc.

Libs lives and works in Toronto, Canada.
Fabrics are ideal for quilting, clothing, wall hangings, bags, cushions etc
Also new this week are these great prints 'On Two Wheels' from Nutex.
The red poppy is a symbol of both Remembrance and hope for a peaceful future.

See these pretty new poppy themed fabrics from Nutex.
Floral Favourites - Almost Gone!
Find yourself surrounded by cheerful florals, cozy feathers, and soft textures that encapsulate a calm, peaceful space that nourishes and comforts you.

Secure Homebody by Maureen Cracknell for Art Gallery. This range celebrates the unspoken magic of being home.
Fulfill your floral addiction with The Flower Society, where florals are more than just a print but a lifestyle! Containing tons of variety and saturated prints ranging in dark, moody, simple, modern, ditsy, and retro.

Secure The Flower Society by AFG Studio for Art Gallery before it is all gone.
The stunning Australian Beauties range is coming to an end - grab them before they sell out!

Australian Beauties by Jason Yenter features a gorgeous selection of Aussie animals and flowers in digitally printed designs
Calling all Alison Glass fans! Sun Prints 2021 stocks are getting low.

On Trend fabric for today's sewing perfect for quilting, clothing, home decorating, bags etc
---
Leave a comment