Nothing hurts us like the fabric we didn't buy. Check out these floral favourites before they are all gone.
Date Posted:9 June 2021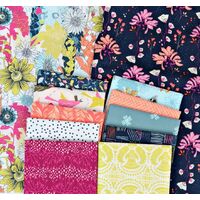 Do you have a floral fabric range favourite?

Here are a few of ours!
Botanical Blooms is designed by Color Principle for Henry Glass & Co., this cotton print fabric is perfect for apparel, quilting, and home decor accents. This range is coming to an end and remaining lines are now 50% off.
Oasis by Flaurie and Finch for RJR Fabrics is a stunning screen print collection inspired by the unique shapes and vibrant hues found in succulent gardens. Grab it now while it is 30% off our retail price.
We have slashed the prices on the M & S Textile floral prints. These genuine Aboriginal fabric are now up to 40 % off . Stocks are low and once gone that is it so grab them before they sell out.
Bordeaux Rose from RJR Fabrics is a special buy in where we are passing on 30 % saving directly to you but stock is limited.
The Plume Collection by Anna Griffin features a breathtaking assortment of feathers, flowers and foliage alongside traditional damasks and tonal designs. This airy palette of blue, gold, pink and green will add elegance and grace to your sewing projects.
Aquarelle by Katarina Roccella gives an ode to her favourite style of painting in this gorgeous watercolour collection. Navy blues and rich fuchsias highlight these lush florals all whilst creating contrast with geometrical shapes and textures that produce sensations of fluidity and translucency.
Flower Festival
from Devonstone Collection. Combining beautiful vintage style floral prints with ditsies and polka dots. It's the perfect blend of old world and fresh modern charm! We have full and mini bundles and individual prints.
Chelsea DesignWorks has created Beauty in Blooms in the style of a contemporary floral collection. This 13 design group mixes textures, transparencies, tones and geometrics with florals, large and small. Graphically striking black and white elements are combined with a saturated palette of magenta, peacock, turquoise and lime.
Pollinate is the story of springtime, where bees buzz, birds sing, and flowers bloom bright! Bring in the wonders of nature during this cheerful season right into your sewing room any time of the year.
Dragonflies and Butterflies flutter by on gossamer wings in a gorgeous collection of flowers, modern textures and medallions. Gossamer Garden truly is a spectrum of colour. This range is illustrated in a watercolour technique and displays vibrant colour.
Our Biggest Stocktake Sale Ever ! We want to sell it so we don't have to count it all !

Rescue some of your favourite fabrics before they sell out.
---
Leave a comment