NEW Super Saturday Savings- Pre Cuts,Special Buys and More !
Date Posted:19 February 2022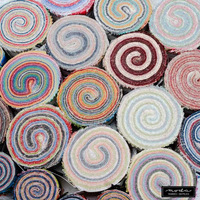 Super Saturday Savings newsletter... and this one is a mega edition - be sure to scroll through to see them all !
We are clearing hundreds of fabrics to make room for new arrivals and have slashed the prices on over 3500 items ! We have secured some awesome deals from one of our suppliers and passing on huge savings to you - but stock is limited, so be quick.

True Kisses!


True Kisses by Hearther Bailey - inspired by bold vintage fashion for this collection of geometrics, roses, daisies, and magnolias with highlights of birds and bows in cream, green, lime, pink, red, and teal.. Shop them all here - limited stock , once sold that is it

Tapestry Digital!


Another stunning range by Jason Yenter for In The Beginning Fabrics.... these will not last long at this great price. Shop them all here - limited stock , once sold that is it

Sunshine Rose!


Tanya Whelan's stunning Sunshine Rose at a great price ! Grab these fabrics before they sell out
We have secured the last of our suppliers stock of the stunning Unusual Garden by Jason Yenter and passing on the savings to you.... digitally printed for amazing details ! Order
here

Take me to the Sea!


Need a holiday by the sea. These great designs will help you feel like you are there

Tonal Blenders!


Blender fabric are great when you want to provide a perfect blend between two different fabric types and to add depth to your creation. Shop them all here.
It's the end of the line for these fabrics , all discontinued and reduced to clear..... awesome bargains up for grabs while stocks last !
---
Leave a comment