NEW Super Saturday Savings- Kids and Novelty Fabrics !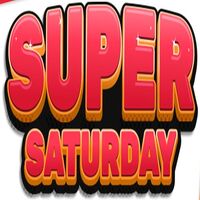 Looks like you are all loving our Super Saturday Savings newsletter editions ! This weeks fabric eye candy features great ranges for the kids plus must haves that are close to selling out ! We have secured some awesome deals from one of our suppliers and passing on huge savings to you - but stock is limited so be quick.

Dino Raw !!!!


Dino Raw began several years ago, when Sarah was a stay at home mum to two precious boys Jack & Ted. "Draw dinosaur, Mum" was constantly repeated by her youngest son Ted, & Jack had thoughts of her drawing the dinosaurs and he could colour them in. So she began illustrating the first dinosaur.... View the range here
Introducing 100% HEMP fabric arriving soon. Hemp is easy to sew and is an excellent alternative to linen. Hemp is woven into a lightweight linen-like fabric and a heavier canvas fabric. Both fabrics naturally resist mold and mildew.Lightweight hemp fabric comes in a variety of colors and is ideal for spring suits and dresses. It also makes great shirts for both men and women, and eco friendly bags and cushions - sew many uses ! Like linen, hemp gets softer and more lovely with use. Like linen, hemp gets softer and more lovely with use.
Order with our introductory special of 20%

Plushie Pillows


30% off these gorgeous cut and sew plushie pillow panels. Five cute animals feature on easy to sew cushion panels that will let you create a menagerie of cuddly friends in no time. Great for when you feel like a quick and easy project, or a first creation for little makers!

Kitchen Dogs

The cutest dogs ever ! Kitchen Dogs have been reduced to clear and are perfect for all your sewing creations! View the range here

Cute Kittens

Not to be out done by the Kitchen Dogs, these Cute Kittens will be purrrrfect fro your next quilt or home decorating masterpiece. View the range here

Llama Llama

Llamas are so cute ! These fabrics showcase just how adorable these animals . View all our Llama designs here
Lots of our kids and novlety fabric ranges are close to selling out and won't be restocked - grab them before they sell out - Shop all here
The gorgeous Cherry Lemonade Quilt Kit sold out in record time and we received lots of messages asking if the pattern was available on it's own...great news ! We have been able to source more of the patterns - this will be the last restock of both the pattern and kit , and once sold out that will be it . Order here
These awesome soft book panels sell out fast . Soft books are quick and easy to make and come with instructions. They make great gifts or market stall items .- Shop all our soft books here
---
Leave a comment