Move over 50 Shades of Grey...there is a new Dark Romance in town. Hot New Fabrics in stock now!
Date Posted:8 February 2018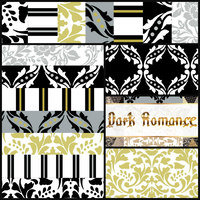 If February is the month of love, then it is perfect that the truck arrived just a few days ago! We have lots of
new fabrics we have listed and there are more to come.

These are sure to get your heart beating.
Move over 50 shades of grey...there is a new
Dark Romance in town!
The
Dark Romancecollection includes elegant Floral & Fancy designs in stunning Black, White, Silver & Gold colourways.

Superior quality cotton perfect for a range of sewing and craft projects.
Pretty in pink and in blue!


The Aviary range includes floral & bird designs in soft tonal colours.

Another superior quality cotton range perfect for a range of sewing and craft projects.
The
Vintage Mix & Match range includes Retro Floral designs in blue, green, red & yellow colourways.

No shabby chic home is complete without ample amounts of sweet floral prints.
Modern Scandinavian range includes Modern Geometric Floral designs in an array of bright colours.

17 prints come together to make up this collection. Buy these individually or via a pink or blue bundle.
You can start many projects with a
panel.

We have a wide variety of
panels and softie panels in stock.
Be sure to check them out, they may just lead you to your next project.
---
Leave a comment