Moon Garden is a new fabric collection that pays tribute to those of us who bloom at night!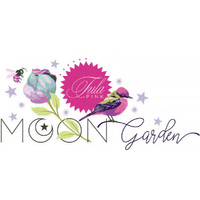 COMING SOON
Pre-orders now open. Fabric due in stock on 11th November.

Moon Garden is a new fabric collection that pays tribute to those of us who bloom at night. When the sun goes down most people move inside and start winding down from the day. Outside, under the glow of moon light a whole other world is just waking up. Moon Garden features all kinds of garden regulars that are drawn to the fragrance and nourishment that the soil provides. There are owls and birds of course, bees, dragonflies and an elegant yet often misunderstood little garden snake.
Video from the designer Tula Pink
We are taking pre orders for The Everglow Quilt Kit by Tula Pink.
A deposit of $100 (non-refundable) is required to secure.
If you would like to order please email

theozmaterialgirls@gmail.com

or message us directly
Everglow - Star Cluster Quilt Kit - $629pp
Finished size 75" (1.91m)
Delivery June/July 2023, Orders must be received by Wed, November 9

Kit includes:17.83m of fabric
8 Everglow prints by Tula Pink

33 True Colours prints by Tula Pink

Star Cluster standard quilt pattern with complete instructions and colour diagrams. Note, it does not include backing fabric.
Playing with a smaller scale the Tiny Beast collection focuses on backyard animals and what they might be up to when we are not looking
Tiny Beasts backing fabric by Tula Pink - 108" Wide Back
The design of Parisville Deja Vu was based on the story of Marie Antoinette, in all of its unnecessary decadence, as seen through the lens of what a young girl might think is "fancy". It was only natural to pull the new colour palette from a buffet of ice cream colours and dessert treats. This collection is like frosting, it's sweet, decadent and entirely indulgent.
For a limited time and with limited quantities available you have the opportunity to order the exact fabrics and quantities required to make Tula Pink's Butterfly Quilt 2nd Edition.

The fabric pack consists of 13.8 metres of fabric featuring:
27 True Colours by Tula Pink fabrics.

15 Designer Solids by Tula Pink fabrics.

1 linework by Tula Pink fabric.

Also includes fabric for the quilt top and binding.
Technique: Machine Pieced
Finished Quilt Size: 88" x 94" (2.23mt x 2.38mt).
Skill Level: Intermediate
ON SALE NOW!
Christmas Specials - now with 10% off
We have restocked the very popular Peter Rabbit Christmas range featuring a very cute panel and coordinating fabrics. A must for any fan !
Browse some of our popular categories!
---
Leave a comment