Measure twice, cut once, curse, repeat! Sound familiar then it's time to restock your stash with these goodies!!
Date Posted:15 April 2021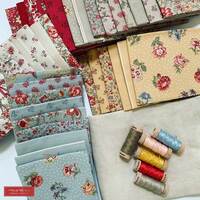 Evoking a formal garden that is a bit overgrown, and filled with all the lovely, small flowers one gathers for a summertime bouquet, this collection includes a soft shade of blue, mixed with French General's classic red and pearl. With just a touch of grey. Jardin de Fleur is in stock now!
Jardin de Fleurs by French General for Moda is available now in stunning bundles, your favourite pre-cuts and individual prints.

Take an afternoon stroll through a bursting French country garden with the newest fabric collection. Jardin de Fleurs collects rustic and playful prints full of blooming flowers and charming country architecture in red, pearl, and grey.
Beside the Sea features NEW nautical designs with a coordinating double border. These charming prints remind us of holidays with sunny Summer days, a warm gentle breeze and sand between the toes….
Beside the Sea by Makower fabric range will be here this week. Featuring fabulous beach and messenger bag its, bundles and individual prints.

Create amazing things with the fabulous double border print or just grab one of the fun bag kits.
We have some exciting new quilt projects coming soon!
These are brought to us by the talented Australian designer Frances Lily Designs featuring some pretty spectacular fabrics.
We have restocked some of your favourite Licensed prints!

We also have lots of licensed fabrics to offer from Star Wars, Marvel, Winnie the Pooh, Tinkerbell, Mary Poppins, Toy Story, My Little Pony, Batman, The Jetsons, The Flinstones, Yogi Bear, Aristocats, Monopoly and more.
The gorgeous Easter Bilby range designed by Australian Artist Elise Martinson has been restocked with a stunning new blue colourway. This is a hot seller so secure today.
How gorgeous is this dress made by Susan from the Toadily Cute range. Susan created this for her granddaughter who is going to love wearing this down to the dam catching tadpoles with her net.
---
Leave a comment