May the fourth be with you!
Date Posted:4 May 2021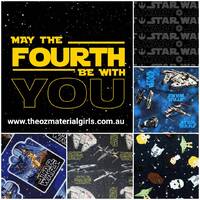 Hopefully you are using today as an excuse to revisit your favourite Star Wars movie!
May the fourth is also a great reminder that Mother's Day is just around the corner!
Have you sorted your Mother's Day gift yet?
You can go for a voucher which gives the gift that gives twice OR how about a kit or a Crafty Club? If you are unsure what to buy you can shoot us an email to us and we can help you choose.
'Women's Wartime Service'. This powerful collection honours our unsung heroes and recognises their strength and effort in supporting our military forces. Acknowledge any strong women in your life with a project sewn with these proud and compelling designs.
"Just Lemons" by Jane Shasky is spring-time fresh with lemons as a focus in a lovely subtle theme of country french blue and lemon yellow collection designed for Henry Glass Fabrics. This collection features a 36" x 44" apron panel a 36" x 44" place mat panel that can be used to make pillows. Other designs included are a tossed lemons design, a tossed lemons and flower print, a packed lemon slices allover, a versatile stripe and a gingham plaid.
Arriving soon...Stay Wild Moon Child is a very cool fabric range and perfect for quilting, clothing, home decorating etc
This celestial collection features vibrant blues, yellows, reds and turquoise. Moons, stars and the sun are the featured motifs. The main print has six blocks, each are approx. 10 inch square. The blocks feature fun sayings surrounded by all things celestial. There is a word allover design, shooting stars, swirling galaxies, stars and an owl design.
The idea of an Old (Maid) Made inspired deck of cards whose characters were sewers, quilts and makers came to J. Wecker Frisch years ago. As she began researching vintage sets, a rare antique deck turned up for sale. These and a few random misplaced cards are the ones she chose to digitally manipulate into the Old Made Collection. The results are delightful!
These great ranges are now in stock and pre-orders are being shipped. If you haven't already secured them, stock is still available.
Outdoor Aussie is as Australian as it gets! For the surfers, the cricketers, the campers, our BBQ'ers and more. Designed by Kennard & Kennard, these designs are inspired by Australia's adventurous outdoor lifestyle.
Never to early to start planning your Aussie Christmas projects and this adorable Aussie Festive Friends range by Elise Martinsons available now ! How cute is the quokka !!!
"In Kalkadoon country the song of 'The Spirit of the Bush' can be heard, it is the thread that binds all things together. It can be heard as a whisper sung across the landscape, it can be heard blowing through the tree's and it can be seen skipping invisibly across the billabongs and rivers forming little ripples." Modern Indigenous art by Chern'ee
Designed and illustrated here in Australia, Burrangong Birdlife designs are inspired by the Australian bush and our fantastic cultural heritage. Featuring our iconic Kookaburra, Cockatoo, Galah and more, all surrounded by beautiful native florals.
MAY MADNESS is now on at TOMG Lots of new stock added to our huge CLEARANCE to make room for new arrivals.
We have discounted over 2700 fabrics, cork, knits and accessories on our website to make room for lots of new stock . Massive savings up to 50% off !


Stocks are limited, shop now.
We know how much you love our fabric remnants and after another busy week we have added lots of new designs! These fly off our shelves so be quick as most are the last we have ! Picture shows only a few of what are available, shop these before they are all sold out.
---
Leave a comment