Looking for fabric with all the cutting done for you ! Pre Cuts are the way to go
Date Posted:10 January 2023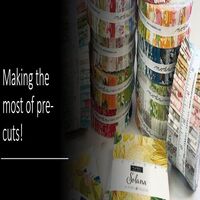 Every quilter or sewing enthusiast knows that purchasing fabric is always exciting and for ease pre-cuts are a must as the cutting and fabric-matching work has already been done for you! The best part about pre-cuts is that it's incredibly easy to use them in quilt patterns and sewing projects like bags and home furnishings

But if you're new to using pre-cuts , it can be hard to keep track of all of the different cuts, especially those lovely pre-cuts with fun dessert names. If you can never keep track of the difference between a layer cake or a jelly roll, then never fear, because TOMG is here to save the day with our ultimate guide to pre-cut fabrics.
10 ways to cut a Fat Quarter

There are many ways to efficiently slice and dice your Fat Quarter Bundles


Here are 10 ways to make the most of your fabric!
New Early Release Pre-cuts from Moda
Oh the joys of summer... Whether you are swinging in a hammock under your favourite shade tree, or sipping sweet tea and catching the cool breezes of a summers evening on your screened porch, the pleasures of summer are here! Look for Summer Breeze 2023 florals and prints in soft blues, yellows, golds and cream.
Flower Power by Maureen McCormick for Moda Fabrics
Maureen McCormick has done it again with another fabulous collection. Flower Power is a beautiful selection of fabrics decorated in brightly coloured hues paired with outstanding designs of wonderful florals.
There are more Pre-cuts that you can have fun with!
These are a relatively new addition to the family. These pre-cut fabric measures 9" x 21-22" per piece, sometimes 11" x 18".

The amount of fabric pieces per bundle varies. Bundles can be custom-curated or all come from one collection. Sometimes sold individually.
Layer Cakes: 10" x 10" squares. Bundles include 40-42 squares, usually all from one collection.
These handy 10" squares are great for quickly sewing up a patchwork quilt top.
You may not think so immediately, but buying Layer cakes to cut into smaller pre-cuts can be economical. You can get two charm packs from a layer cake and still have fabric left over to cut strips for binding and borders. Here are some ways to slice a Layer Cake.
Charm Squares:
These are 5" x 5" squares.

Bundles include 40-42 squares but smaller ones include at least 10 squares.
Jelly Rolls:
These are 2½" wide strips fabric (usually 42-44" lengths). Bundles include 40-42 strips, usually all from one collection. Note: Junior Jelly Rolls have 20-21 strips.
Honey Buns are very similar. These are 1½" x width of fabric (usually 42-44" wide).
Other names are Roll Ups, Rollie Polies, Skinny Strips etc. They are

ideal for borders and binding, but don't let that fool you. They can also be used for making everything from table runners to bed quilts. Strip-friendly patterns tend to be simple and fast to complete.
---
Leave a comment