✂️✂️✂️Lift off Saturday Super Specials for your Sewing Pleasure !
Date Posted:21 January 2023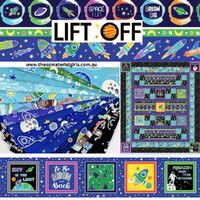 We know how much you love our Super Saturday Specials so we are kicking off today with a chance to "Lift Off" into outer space while keeping your feet firmly planted on earth! These fun collections features vibrant space themed prints from astronauts and rockets to planets, constellations and stars, and they all glow in the dark.
These 2 adorable collections are selling fast , don't miss your chance to secure.
✂️
Bramble Patch
✂️
Hedgehog Hollow
Just click on the pictures to see the range
We have restocked our Last Chance FQs and Skinny FQs - these are 1 off packs perfect for smaller projects and stash building - now 20% Shop them all here
Lots of our gorgeous ranges are coming to an end and have been reduced to clear to make way for new arrivals. Save up to 50%. Here are only a few ! Shop all our sale fabric here.
We have over 370 fabric panels on sale up to 50% off ! Shop our sale panels here
---
Leave a comment