Licensed Fabrics you have to have !
Date Posted:12 June 2021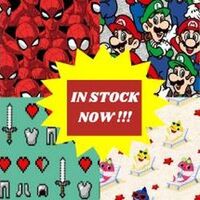 Calling all
Spiderman fans
! These fun prints are awesome and will thrill any fan - perfect for quilting, clothing, home decorating, bags etc
Adorable
Bambi
and Thumper panel and coordinating fabrics are now available.
The world is yours for the making. Prepare for an adventure of limitless possibilities as you build, mine, battle mobs, and explore the ever-changing
Minecraft ...
Wiggles
Emma Fans ...did you know she has her own licensed fabric range ! Gorgeous bundles, panels and individual prints perfect for quilts, clothing, cushions, bags, home decorating etc ! A must for any fan!
Chase away those winter chills with these soft, cuddly, plush minky fabrics!
Minky Metallic
featuring Star Wars, Harry Potter, Marvel, Mickey Mouse, Disney Princess are now in stock ! These will sell fast so secure today. 148cm wide so plenty to work with ! Perfect for quilts, blankets, cushions
More licensed fun to be had with these characters!
Mario Bros. stars Mario and Luigi, two Italian plumbers who find themselves in the Mushroom Kingdom trying to rescue Princess Toadstool from the evil King Bowser.
Paw Patrol
- A group of six rescue dogs, led by a tech-savvy boy named Ryder, has adventures in "PAW Patrol." The heroic pups, who believe "no job is too big, no pup is too small," work together to protect the community
"A long time ago in a galaxy far, far away...." Whether you watched Star Wars in the 70s or yesterday, these epic tales are packed full of adventure.
My Little Pony -

These characters first hit out TV screens back in 1986 and then again in 2010. Tied to the Hasbro toys, each generation is packed full of friendship, magic and harmony.
First shown on a Saturday night, by the light of the moon, an egg lies on a leaf. When the egg hatches early Sunday morning, the newly born insect is revealed as a caterpillar.. Soon, he begins to look for something to eat!
The Very Hungry Caterpillar
collection features vibrant prints inspired by the beloved classic children's book a wonderful addition to any nursery, classroom, or child's room.
Expecto Patronum!!! Okay
Harry Potter
fans...this one is for you! Check out the panel and fabrics in stock now.
We have all your on trend licensed fabrics in stock now including
Baby Shark !
"Nothing Runs Like a Deere" These farm theme fabrics are great for both little boys and girls. We also have classic John Deere fabrics in stock now.
Looking for something different?
Colour Me Pillowcase kits are fun for all and a great project to introduce a kid to sewing.

Kit includes a pillowcase panel and fabric markers to create a one-of-a-kind pillow case. Panel size is 36" x 43".
Our Biggest Stocktake Sale Ever ! We want to sell it so we don't have to count it all !

Rescue some of your favourite fabrics before they sell out.
---
Leave a comment