Less Tuesday...More Sewing!
Date Posted:9 November 2021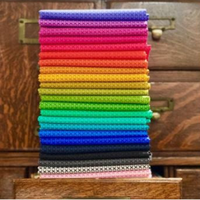 Cross Stitch by Alison Glass - a fun design - a simple, little sewing-themed blender is an exciting addition to the AG fabric lines. Gorgeous colours in the collection, we know it will be useful to quilters as another paint box style staple.
Want more? Why not team them up with Alison's Sun Print

range.
Make the most of these pretty fabrics with an Alison Glass quilt pattern.
Sew Happy is a fun sewing themed range by Andover. Check out the fabulous block panels and coordinating prints. All are available now.
Get out your hard hat, join the crew and get ready to build! The playful Construction Crew collection brings the job-site to life! You'll find a cool block panel, brick prints, bulldozers, tools and sew much more - and they all glow in the dark. Make your little job foreman's dreams come true with projects from lunch boxes to laptop pillows and of course quilts!
Create with the art of a renaissance genius.
Leonardo Da Vinci
from Robert Kaufman features some of the great master's best known works, complemented by beautiful textured coordinates in antique colours.
More Digitally printed panels and coordinating prints from Robert Kaufman Fabrics.
"The tiger will see you a hundred times before you see him once." — John Vaillant.

Wild and Free from Robert Kaufman. This fabric is 100% quilting cotton. Suitable for quilting, patchwork, home decorating, applique, cushions, scrap-booking , and general sewing.
---
Leave a comment