Less Tuesday, More Fabric!
Date Posted:20 September 2022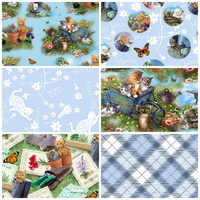 Something Puurrrrrfect is coming soon!
You have to love these sweet little kittens! "Kittens in the Garden" is the newest fabric collection designed by Robert Giordano/Giordano Studios for Henry Glass Fabrics.
Robert Giordano
Robert Giordano was born and raised in New York City. As a child he spent many days drawing and painting with his father, Joseph Giordano, founder of Giordano Studios. Having this fondness for the natural world, these venues inspired his love of nature.
See Kittens in the Garden range including the fun panels, quilt kits and individual prints. Fabric due to arrive early October.
Finished size 56" x 68"″ (142cm x 172cm)

Skill Level - Advanced Beginner
Once Upon a Time by Delphine Cubitt for Henry Glass & Co. What a fun series for a little boy or girl who loves fairy tales and bright colours. Also arriving in a couple of weeks. Range includes a fabulous quilt kit, Cot Panel, Soft Book Panel and individual prints.
Finished size : 58" x 58" (147cm x 147cm)

Skill Level - Advanced Beginner
Numbers in the Jungle from Henry Glass & Co.
We have secured these at a great price and passing on the savings to you.
Range is complimented by the fun soft book panel. Think of all the cute things you could create.
Something for Tilda fans!
Available now - Tilda Solids bundle featuring the 23 colours of 2022 is now in stock.


These are designed to coordinate with all of the wonderful Tilda collections.
Browse some of our popular categories!
---
Leave a comment