It's true...the stash is for all the fabric you WANT not all the fabric you NEED!
Date Posted:18 May 2021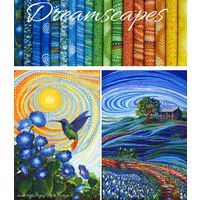 The artwork for Ira Kennedy's
Dreamscape
collection is inspired by his travels, especially to Australia. The meaning of shapes, the harmony, and the rhythm spoke to him, conveying a sense of movement.His paintings are held in private collections from Australia to Texas and from Canada to South Korea. His original work is currently available only by commission.
Arriving next week, secure today before it sells out as stock is limited.
Dreamscapes quilt kit - includes all fabric, binding and the pattern to make the quilt top . Backing is not included, if you would like us to match a backing just let us know - 3.5m required for backing.
Finished size 51" x 66"
Illustrations -
You can never go wrong with the bold contrast of black and white. Alli Koch of Alli K Design has created her first fabric line with her signature style of handdrawn lines.
Designer Alli K
Enjoy this stunning
Illustrations
range with these two quilt kits.
The full range of Illustrations from Moda is due to arrive after the 28th May.
Honor the Frontline Heroes with this awesome collection from Robert Kaufman. This digitally printed fabric is easy to sew with has a soft hand and is very versatile! It is ideal for quilting but can also be used for crafts miscellaneous sewing projects or home decor items like pillow covers and bed skirts.
Beguiled -
Libs Elliott brings you a blast of neon fun with her latest range for
Andover Fabrics
Beguiled. Add some pop to your makes with vibrant colour and modern motifs, with a bit of 80's retro in the mix!
There are 16 awesome designs in the Beguiled collection. Purchase them individually or as a bundle.
How hot is this new Deluxe Embroidery Scissors & Tape Measure Set!
The set contains -
11.5cm/4.5" Embroidery scissors, extremely sharp and fine point for precision cutting. High quality stainless steel blades for strength and long lasting performance.

150cm/60" Retractable tape measure with magnetic back, Silver foil floral pattern on piano black casing. Magnetic back for easy storage.

Presented in a high quality gift box. Dimensions 19.5x 8.5x 2.3 cm
Camo Fabrics available now ! 6 awesome colours perfect for quilting, clothing, home decorating, masks, and general sewing. Gorgeous quailty digitally printed fabric perfect for any project !
Just arrived and pre-orders shipping now!
The latest Tilda range Gardenlife has now arrived. Bring the garden inside with large floral prints of nasturtiums, peonies, petunias, and poppies on backgrounds of blue, coral, green, lavender, lilac, mustard, and pink with the occasional bird flying by.
Along with the arrival of the latest Tilda is Issue 36 of the Tilda Club. This is featuring fabric from
The Gardenlife Collection
and contains fabric and pattern to make this exclusive project.
We are so thankful to have such loyal followers who have nominated us for this prestigious award. If you would also like to show your support for our business, we ask that you add your vote today.

YOU also have the chance to win 250,000 Qantas Points when you cast your vote! Hurry, voting ends 7th June.
We actually do a little happy dance every time you share one of your creations made from fabric order from us! Here are some examples of customer creations which have us so excited.

Please join in the community and share your latest project.
#customercreations #tomgfabric
Emma had some fun with some chevrons! These great fabrics from the Carnival range feature two designs per print.
Fabric appreciation!



Not everyone has time to complete a project but we also love the fabric shares. Look what got delivered this week!
Sheri loved her Butterflies in Flight fabrics which just arrived , including the stunning panel and coordinating prints. Digitally printed for amazing colour and details





Eleanore is now planning her next quilt with this bounty of

Australiana!
---
Leave a comment