I don't need Therapy....I just need to spend time with my fabric stash!
Date Posted:17 August 2021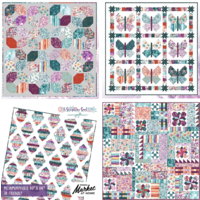 Cuteness Alert!
How gorgeous are these latest Christmas fabric by Aussie designer Elise Martinson. The Little Aussie Christmas range features all of your favourite Aussie Animals getting a little festive! This is a must for your Christmas projects.
They just keep getting cuter ! This Tassie Devil baby fabric panel and coordinate in purple have also just arrived and are available along with the cute baby Dingo themed panel from the Native Nursery range.

The ever popular Very Hungry Caterpillar series is back with more! Check out these new designs which mix and match with the existing panels and coordinates from Andover's VHC range.
You will be stunned by the detail in these Alphabet Botanicals panels. Designed by Lilly Miranda for Devonstone, these panels measure 60cm x 112cm and are in three great colourways. Great for quilting, accessories, home decor and more.
With more and more people in lockdown, project kits have increase in popularity. Kits are great as offer the convenience of coordination and you get only the fabric needed allowing you to start projects immediately and complete them quickly.

See the four new quilt kits featuring the Sunshine Soul range from Moda fabrics. Created with one purpose in mind - having a "sunshine soul" means you radiate positivity like rays of the sun, and in turn, you light up those who surround you. You find peace of mind and body easily when you let your light shine. Remember, if you're shining light on others, you'll bask in that light too.

We are excited to have some more early release pre-cuts from Moda fabrics. These flirty florals are Grace by Brenda Riddle. True to the name, Grace by Brenda Riddle reunites you with floral motifs and charming reds, blues, yellows, and greens. A collection frozen in bloom for you to enjoy.
If you missed out bonus newsletter over the weekend, you may have missed that the latest Tilda collection Windy Days is now open for pre-orders.

This year's Autumn/Winter collection is inspired by the windy days of fall, when leaves twirl while the wind catches your umbrella and blows your hat off. Windy Days is released October 1, 2021
Time to restock your stash? Grab the end of the bolt before they sell out! New lines added today!
Fabrics listed will be the end of the bolt above 1m. Most will be the last we have and won't be replaced. Also check out our fabric
remnants
pieces under 1m.
---
Leave a comment