Get excited! Bramble Patch by renowned artist Hannah Dale is now open for pre-orders at our great introductory price.
Date Posted:18 January 2023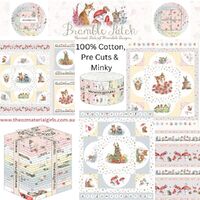 Pre-order Bramble Patch and Save!
How adorable is this gorgeous range, Bramble Patch from Maywood Studios.
We have secured this at an amazing price and passing the savings onto you. Pre-order and save 20 % on the full range, pre-cuts and minky.
Into the Bramble Patch we go to hear the birdsong, watch rabbits play, and pick flowers. Renowned artist Hannah Dale is back with her third collection of darling florals and bustling animals. Their sweet expressions and amusing antics will have you smiling as you sew up projects with the adorable prints, creative quilt panels, and cosy Minky designs.
Stock is due to arrive 10th February.
Just Arrived!
Fairy Garden is a pretty fabric range featuring fairies, flowers, tea pots and mushrooms. This new range is available now.
Get Excited!
We have just listed some fun new licensed fabrics for you. These feature your favourite Marvel characters. See these and all of our licensed fabrics.



SELLING FAST - a massive 20 % off current remnants and last chance packs - over 400 to choose from



lease note remnants shown in picture may have sold out prior.
Browse some of our popular categories!
---
Leave a comment