Fabric: An item to which the word 'enough' doesn't apply. See this week's new arrivals.
Date Posted:15 February 2021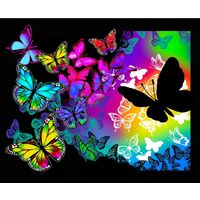 The absolutely stunning Butterflies in Flight range will be here soon ! Featuring a divine panel and coordinating prints, we will have bundles and kits available also.

Pre-orders are now open. Range due to arrive after 26th February, 2021.
There is also a Quilt Kit available featuring the Butterflies in Flight Fabric Collection by Sykel.
Kit includes all fabric, binding and the pattern to make the quilt top made from the Butterflies in Flight range and Devonstone solids. Backing is not included, if you would like us to match a backing just let us know - 3.75m required for backing.
Finished quilt size is 63" x 55"
Alison is inspired by the multitude of details in the world, both natural and those made by artisans, particularly in urban architecture. She is passionate about the ideas of making choices that are consistent with who a person is, being increasingly comfortable with ambiguity, and continuing to move forward and live in the new.
On Trend fabric for today's sewing perfect for quilting, clothing, home decorating, bags etc
There are 27 great prints in this collection. Available individually or via a 1m Bundle, 1/2m Bundle or FQ Bundle.


Pre-orders are now open. Range due to arrive after 26th February, 2021.
Enter the serene and silent scene of

Midnight Woods. This breathtaking collection includes a stunning panel in the midst of the forest, lit by a bright full moon. Included in the collection are five coordinates: crunchy fall leaves in three colourways, vertical blue trees, and two texture patterns. In shades of blue, black and gray, this collection is perfect for your next masterpiece.
Pre-orders are now open. Range due to arrive after 26th February, 2021.
Designed for Sykel Enterprises, these fun cat themed prints from the Madame Victoria's Elegant Cats collection are lots of fun.
Lightweight fabric and easy to sew with. Ideal for quilting, but can also be used for crafts, miscellaneous sewing projects, or home decorations.
Crazy for Cats is designed by Kitty Warhol for Sykel Enterprises. It features eclectic fashion forward felines in electric bright colours. Purr-fect for quilting, apparel and home decor.
All Systems Glow in Dark Planets Space panel and coordinating print.
This 'All Systems' Glow in Dark Planets Space Panel and coordinating print has just arrived!
If you love to create with glow in the dark fabrics then you will be sure to love these too. The panel measure 90cm x 112cm.
Bananya (ばなにゃ) is an original Japanese anime television series produced by animation studio Gathering. With tiny cats living inside of bananas, Bananya's lifelong dream is to bathe in chocolate with all of his banana cat friends and to live his life as best as he can in a normal household.
Looking for some inspiration, how about this cute quilt kit?
Finished Size is 51" x 61.5" - Kit includes all fabric , binding and the pattern to make the quilt top.
This AMAZING panel sold out in record time and is absolutely divine in real life. A huge 138cm x 144cm - 54" x 56" there is plenty to work with in this linen/cotton panel.

Available to pre-order now so secure today before the cut off date to order closes.
After a huge week with hundreds of orders leaving the TOMG warehouse, we have lots of remnants left over ! These fly off our shelves so be quick as most are the last we have ! Picture shows only a few of what have been added and some may have sold out prior to this newsletter being released.
---
Leave a comment