End of year clearance - up to 75 % off fabric and accessories !
Date Posted:27 December 2017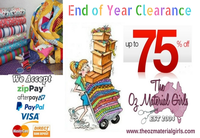 I hope you all had a festive and fun few days!
We know you love fabric and we know how much you love a BARGAIN !
To thank you all for such a great year, we are now running our end of year clearance S A L E!

Fabrics are discounted from 10-75% .
Don't leave it to long to secure as they sell very fast !
Get 75% off some great designer cottons...that means some of these are below cost at just under $6/m!
Get 50% off Mod Studio, Fun Floral, Boxed In, Gaddabout,Valencia and others.
Get 40% off Summer Burst, L's Modern Garden , Assorted Flannel, Priscilla and more. At these prices you can buy the complete range!
Get 30% off Nordic Holiday, Here for the Boos, Christmas Reindeer , Magic Garden and more. You can get ready for Halloween and Christmas 2018!
20% off on over 600 fabrics including Grandma's Garden, Jurassic Jamboree, Manderley Crane, Coonawarra, Snowfall to name a few.
As nearly everything is on sale you can get 10% off some amazing quilt kits, Essence of Pearl, Tilda's LemonTree, Quilters Deluxe, Ambrosia and many more.
Don't be shy, check out the sale today! Who knows, your favourite fabric may be waiting for you at an amazing price.
---
Leave a comment