Easter themed fabrics at TOMG and so much more !
Date Posted:30 January 2021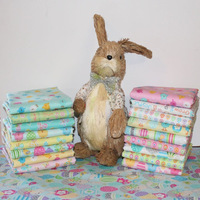 Never an idle moment at The Oz Material Girls warehouse.

We have lots of Easter Bunny fabrics hopping around the warehouse at the moment just waiting to be turned into fun handmade goodies.
This fun range is due to arrive early February and is perfect for your Easter sewing projects. It features the most adorable bunnies, chickens , sheep and butterflies - pick a bundle, kit or individual prints.
These sweet spring prints are an adorable must have! The fluffy bunnies and silly sheep hopping around the fabric are so lovable and cute. The little painted eggs prints and fluttering butterflies are delightful. With soft colorways and dot patterns of blue, green and pink, you can make anyone smile. They are just perfect to make baby quilts, table runners, aprons or nursery curtains. Hop on over for these fun prints.
See the full range on our website.
We have a wide range of Easter themed fabrics along with project panels to get you excited motivated to do some Easter sewing.
The Boho Blooms collection by Nancy Archer for Studio e Fabrics includes a 36" crafty bunny panel, an easy to make bunny doll that is sure to put a smile on your child's face. The palette in this collection includes mid-tones of pinks, blues and greens, which would be perfect in any girl's room. There is also a 24" mini quilt panel that could also be used as a pillow or table centre piece.
If you are not after a traditional Easter Bunny, how about an Easter Bilby!

This fun range is great for clothing, quilts, and general sewing. These sweet prints are designed by Elise Martinson for Devonstone.
Hoppy Easter quilt fabric by Blank Quilting. This classic Easter collection features chicks, bunnies, pansies, Easter eggs, a plaid, and a pretty splatter texture.
Why do these sweet prints make everyone say "aww?" Maybe it's the adorable bunny box print, or the bunny baskets. Maybe it's the Mini Chicks print, or Spring Time Words. Maybe it's the combination of ALL the sweet prints! Whatever it is, they are just perfect to make the perfect baby quilt, carriage lap throw, baby wall hanging or bibs. Remember… Some Bunny Loves You, too!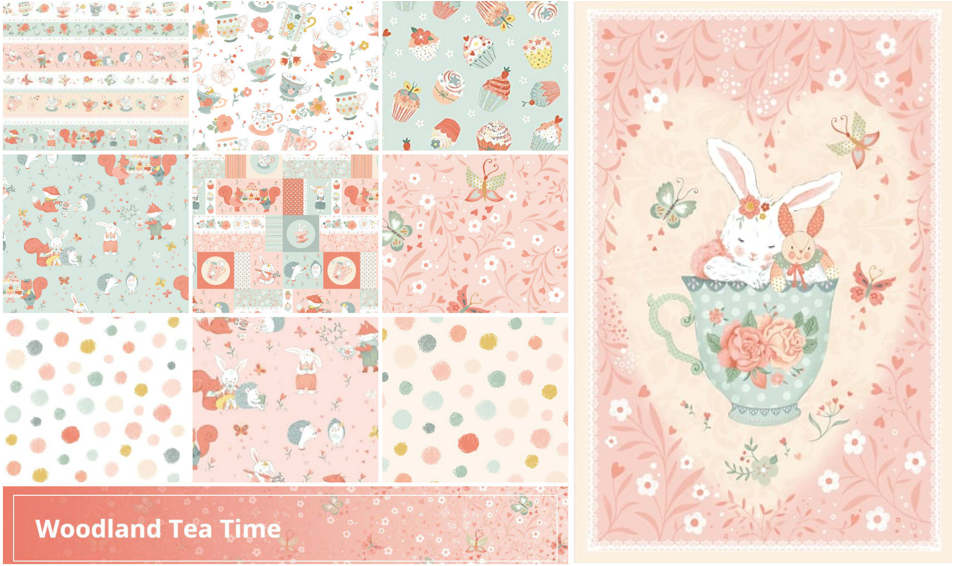 Woodland Tea Time
by Lucie Crovatto is a sweet collection featuring bunnies, foxes and other woodland characters in Lucie's sweet style. The color palette includes soft pinks and aqua with touches of neutral creams and beiges. The 30-inch panel features a bunny in a teacup, surrounded by butterflies. Lucie has captured the sweetness of a Woodland "Tea Party" with cupcakes, tea cups and smiles.
There are many more Easter themed fabrics to choose from. See them all on our website.
Buzzing
Bumble Bees
is a fun new collection in eight great colourways. They are perfect for all your quilting, clothing, home decorating sewing projects.
These special sewing accessories are 1/2 price. Stock up on Anti-Static Spray, Mending Tape, Hand Needles, Sewing Kits, Automatic Clothes Fabric Brush, Hook and Loop, Fabric Comb, Thread and more !

Hurry, stock is limited. Once sold out that is it.
Homebody celebrates the unspoken magic of being home. Find yourself surrounded by cheerful florals, cozy feathers, and soft textures that encapsulate a calm, peaceful space that nourishes and comforts you.
This new range is due to arrive in a couple of weeks.
Here are a few of the new fabrics which will be arriving next month. Winnie the Pooh and Mickey Mouse and friends.
Transform your next sewing project by using glow in the dark fabric. 100% Cotton fabrics that glow in the dark after being exposed to a light source. We have a number of ranges, here are a few of our favourites.
The collection includes a fun Save the Day panel–the top features police cars, helicopters, and ambulances, the bottom a fire department. The coordinates feature all the vehicles and tools the responders use to save the day. This is a great way to introduce your children to these responders, as well as a great way to honour the responders and the wonderful services they provide...especially when they glow in the dark!
Summer Night Soriee
features glow in the dark fairies fabrics in the garden ! A stunning selection of fairies, flowers, mushrooms designs.
---
Leave a comment