*** Discount Code Inside - up to 55% off *** NEW Saturday Super Specials !
Date Posted:17 September 2022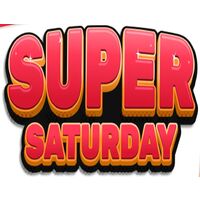 For 1 week only take an extra 5% off our already amazing sale items - that means up to 55% off ! Stock includes
✂️REMNANTS
✂️LAST CHANCE FQ PACKS
✂️LAST CHANCE SKINNY FQ PACKS
✂️END OF BOLTS
✂️AND ALL SALE STOCK
Just use code "EXTRA5" in DISCOUNT CODE box at checkout and it will automatically redeem. Offer ends 24/9/22
Please note the code needs to be applied for the discount to be applied.
We hope you love this weeks Saturday Savings newsletter.
Bumper edition ! Be sure to scroll through to see them all !
Take a futher 5% our very popular fabric remnants, usually the last we have - here are just a few - that's 15% off... and have you seen our latest Devonstone Solids Remnant Packs - a rainbow of colour perfect for your stash ! Shop them
here
Do you love FQs and Skinny FQs - these are 1 off packs perfect for smaller projects and stash building - we have added lots of new packs and now 15% off with code EXTRA5 applied. Shop them all here
Looking for on trend modern quilt backings ! We have a gorgeous selection of 108" (270cm) wide backs available now ! Here are just a few ! 100% cotton fabrics, perfect for clothing, home decorating , bags too up to 35% off with code EXTRA5 applied! Shop these stunning designs
here
---
Leave a comment