Dear Fabric Stash.....
Date Posted:27 May 2021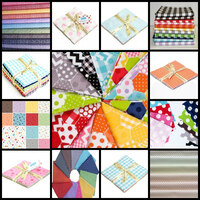 Get excited for these stunning early release Moda pre-cuts!
These sneak previews are limited to the pre-cuts that we have available on our website until the full range is released later this year.
Whispers Metallic by Studio m for Moda Fabrics features 20 subtle designs in delicate metallic prints.
Words to Live By by Gingiber for Moda.
When life hands you encouraging blocks, make an inspiring quilt! A floral collection of prints that will pair well with a panel full of positivity. Orange, yellow, pink, white and blue flowers along with crossing lines, waves and flowing vines and leaves.
We are clearing lots of Riley Blake pre-cuts. These are starting from just $7.16 a pack!

Included in the clearance are 5" and 10" squares, Rolie Polies and FQ Bundles.
Stock is limited so now is the time to stock up.
The oh so pretty Sophie range by Brenda Ridlle for Moda has arrived. This range features chic tones of pink, green, linen white and grey. We have pre-cuts and the full range of individual prints now available.
How pretty is Hoot Hoot ! Featuring gorgeous owls and flowers. We have the full range including bundles, kits and individual prints
Sewing essentials!
Launched with an amazing introductory price.
Have some fun with the new 'Sewing mends the soul' latex free packet of bandaids.

Bandaids for any scrapes or pricks you might endure during crafting sessions. Each box comes with 40 sterile and 100% Latex free sewing themed bandages.
Colour Me Pillowcase kits
Secure today at our introductory price.
These novelty kits from Riley Blake designs feature a pillowcase panel and fabric markers to create a one-of-a-kind pillowcase.

The panel size is 36" x 43" and an official licensed design.
Don't miss out on the savings from our May Madness Sale. We are in our final few days and stock is selling fast.
---
Leave a comment