Win cash to spend on our site !!!
Date Posted:25 July 2017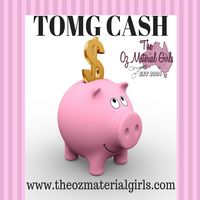 July sure went quickly!
Looks like you are all enjoying the relaunched website. The last clues for the
Treasure Hunt went up today. You have a couple of days to check your answers and submit them in via this link
http://www.123contactform.com/for…/TOMG-Fabric-Treasure-Hunt.

We decided to finish the month how we started...with an awesome
sale :)
Now until the end of the month we have slashed prices on almost all of our listed! These fabrics are now reduced by up to
50% off !
Have you signed up for an account on our RELAUNCHED website?
We have an awesome feature where we can add credit to your account to spend! So be sure you have registered as I will be popping TOMG CASH into a few accounts to spend on anything on our site and as a thank you for checking out our new website.

(PLEASE NOTE - if you had registered on our previous site prior to July 1st, you will need to re-sign up for a new account - if you would like me to check if you are registered on the new one just let me know and I will check for you.)
If you are already signed up or have placed an order since 1st July, you don't need to do anything.... other than check to see if your account has money to spend
Until Next Time xxx
---
Leave a comment