Can we go trick or treating and ask for fabric?
Date Posted:12 October 2021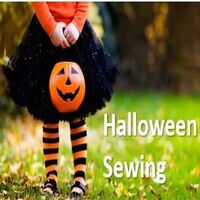 While Halloween isn't as widespread as it is in the US, this doesn't mean you can't celebrate it with some spooky themed sewing!

Our Halloween fabrics range from the traditional black cats to glow in the dark bones! See what we have in stock below.
This is a scary version of Mother Goose tales meets Halloween is an antique illustration of old picture books brought to life on this quilting fabric collection.

The modern orange, black and grey colouration will bring these witches, mice and bedtime tales to life with your next project.
Old Made from Riley Blake Designs is another subtle yet quirky vintage-inspired Halloween collection by J. Wecker Frisch.

The idea of an Old (Maid) Made inspired deck of cards whose characters were sewers, quilts and makers came to J. Wecker Frisch years ago.
As she began researching vintage sets, a rare antique deck turned up for sale. These and a few random misplaced cards are the ones she chose to digitally manipulate into the Old Made Collection. The results are delightful!

Full Moon by Helen Black for Dashwood Studios is a quirky, spooky collection of fabrics for Halloween and goth projects and comes complete with a gorgeous, yet eerie fabric panel!





Ghoulish Gathering takes spooky fabric to the next level with its glow in the dark features.

Happy Owl-O-Ween novelty quilt fabric panel by RJR features funky owls,cats and bats.

Panel measures 60cm x 112cm

100% quilting cotton.

---
Leave a comment