Calling all Snoopy and Woodstock Fans ! New fabrics now available....... Are you a Snoopy Fan ?✂✂
Date Posted:2 November 2021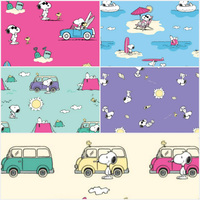 Sweet Safari

This sweet and cheerful collection is a must-have for children's playroom and nursery projects.

Kids of all ages will love to take a trip on this colourful safari, filled with lively prints featuring the wild's most recognisable friends - from friendly lions and tigers to happy elephants and giraffes!

Sweet Safari Quilt Kit
New Early Release Pre-Cuts
Paisley Rose by Crystal Manning for Moda Fabrics.

Blooming roses add a dash of romance, and ornate paisleys create a bohemian vibe. The luscious colors and vibrant patterns of paisley rose will add boho style to your wardrobe and home decor.

Cottage Linen Closet by Brenda Riddle for Moda.

Quaint designs that take you back to life at the cottage


Stock is limited to what is listed so be quick
Confection Batiks by Moda is available now.


A unique collection of Batik fabrics by Kate Spain that displays a kaleidoscope of flowers, diamonds, circles, and leaves with breathtaking blends of scarlet red, jade green, navy blue, snow white, lime green, and black. See the vibrancy for yourself!
The gorgeous Pretty in Pink range features the most adorable animals and coordinating prints. Available once again with a stunning quilt kit, bundle , individual prints and a must have panel.
Lots of new remnants have been added! As always, be quick as most are the last we have and they sell fast!
View them all on our website today.

Please note remnants shown in picture may have sold out prior
---
Leave a comment